Pharmaceutical liability and medical device liability mass torts are one of the most lucrative spaces within the legal industry right now. We have been managing pharmaceutical liability marketing campaigns on Google AdWords for over 10 years. We helped a client become one of the lead plaintiffs on an important birth control mass tort lawsuit. And we have managed advertising campaigns for failed pain pumps, failed hip replacements, a diabetes drug causing cancer and many more. We routinely manage Google AdWords accounts for law firms spending at least $100,000 per month. We have delivered thousands of leads in pharmaceutical liability marketing for several clients nationwide. There are many tricks we have learned to manage pharmaceutical liability advertising campaigns. The competition and cost per click can heat up very quickly with mass tort marketing. And there are large ebbs and flows of search volume as news breaks on these cases. As seasoned veterans in this space we know how to maximize your advertising dollars.
Here are the all time results for several pharma/medical device marketing campaigns for one of our clients. These results don't include calls which improve the cost per conversion by about 50%.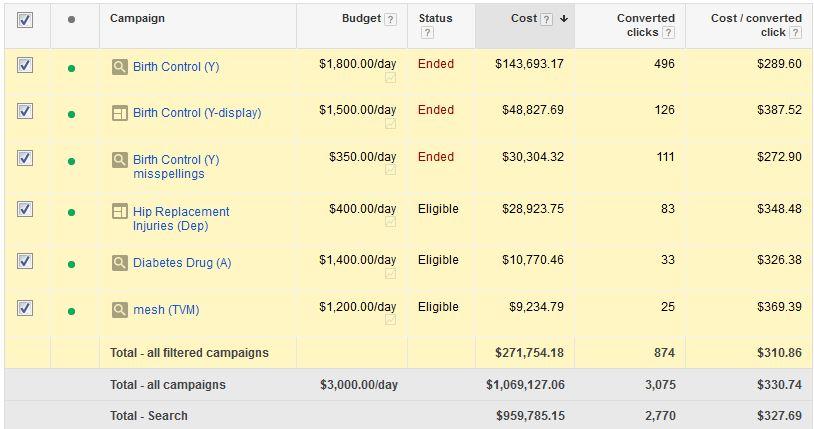 Watch All Webrageous Client Testimonials
Here are several video testimonials. After watching the first testimonial by the owner of a resort in the Bahamas you will see several videos of attorney clients.
The Legal Industry PPC Market is Highly Competitive
Because of the potential business that successful PPC campaigns can generate, pharmaceutical liability and medical device liability digital advertising is a highly competitive space. Unfortunately, keywords related to mass torts are some of the most expensive keywords on the market. Law firms can expect to bid upwards of $100 per click to secure the most competitive keywords for some of the most competitive campaigns. Many advertisers are finding greater success with mobile advertising campaigns, but effective mobile PPC can be just as time-consuming and costly for amateur advertisers. After managing dozens of pharmaceutical liability campaigns we know the tricks of managing these campaigns. The trick in 2016 and beyond is to drive live calls which are, in most cases, the best leads. We do this by giving people the option of clicking to call when they search on a smart phone. It's important to have one or more prominent click to call links.
The Unique Challenges of Pharmaceutical Liability Marketing
For firms specializing in pharmaceutical liability, creating effective advertising campaigns can be especially challenging. New rulings and cases can create an unpredictable ebb and flow to the most popular search terms for pharmaceutical liability advertising. When a new case hits the news, search volume for related terms skyrockets and competition for the top keywords explodes, but then after time the volume dies down. These fluctuations can be difficult to navigate and challenging to keep track of over time. Search volume for these terms can have dramatic ups and downs as new developments hit the news wires but then go through weeks or months with much less interest before flaring up again. Your time is worth too much to spend playing catch up with the whims of an online audience, so having a solid, battle hardened digital advertising partner is your best bet against wasted time and energy. We helped one of our clients become one of the lead plaintiffs for the Yasmin case. And we manage tens of thousands of dollars for ongoing pharmaceutical liability advertising cases every month.
Gain the Benefit of Years of Pharmaceutical Liability Marketing Experience
Because we dedicate our time managing successful advertising campaigns for law firms, we have a deep understanding of the pay per click advertising industry. We've done the hard work of figuring out what works and what doesn't work over the years, so we can bring tried-and-true techniques to your PPC campaigns.
We also have a direct working relationship with Google AdWords representatives, making us a reliable resource on the latest PPC trends and strategies.
Webrageous' team of legal advertising specialists has years of experience optimizing PPC campaigns within the pharmaceutical liability marketing space.  Most of our account managers have 10 years or more experience. Our extensive experience with advertising in the legal industry has given us a wealth of knowledge and wisdom when it comes to dealing with the nuances of digital advertising for law firms. Our specialization within the pharmaceutical liability advertising space lets us understand your needs and create strategies that work, rather than one-size-fits-all campaigns. We have helped many pharmaceutical liability clients see better results than they can achieve with self-managed campaigns or an inexperienced provider that doesn't understand the tricks of managing pharmaceutical marketing campaigns. Most importantly, you don't want to risk running afoul of State Bar regulations. With our years of experience you won't have to worry about us getting you in hot water.
See The Results We Have Delivered For Others
Our PPC professionals have the experience and time to focus in on creating a solution that works for you, so you can spend less time trying to navigate digital advertising and more time with your clients.
Change Your PPC Strategy Today with Webrageous and Start Seeing Results
Contact Webrageous today to jumpstart a mass tort PPC marketing campaign that performs well and helps you hit your advertising goals. Let us review your existing Google Adwords campaigns on a no-obligation basis, and we will give you a brief analysis of your performance and help you understand why your campaigns might be falling flat. We'll help you create a customized PPC plan that gets conversions and drives business for your firm.   Best of all, we may be able to offer a 60 day risk-free trial!