Webrageous has been successfully managing Google AdWords campaigns for family law firms for well over 12 years now. Family Law AdWords results can vary depending on the location, case type, tracking capabilities, and PPC campaign strategy. Below are summarized results for a few of our law firm clients targeting Divorce, Child Custody, and Child Support leads. Budgets range from $2,000 to $7,000+ monthly.
The average cost-per-click (CPC) can vary considerably depending on location. The conversion rate (percentage of clicks that become a lead) for our family law firm clients ranges between 12% and 40% depending on a number of factors, including device targeting (phone/desktop), case type, and tracking capabilities as primary variables. Most importantly we see a cost per lead typically between $50 and $70 per lead. That's what it costs you to get one phone call or one contact form submission. For family law you can expect three times as many calls as contact form submissions.
South Florida Family Law AdWords Results
This Family Law client has outsourced their advertising to Webrageous for almost 2 years. Prior to launching campaigns we worked with the client to optimize her site for conversions. Landing page optimization and pre-optimized campaigns built on family law ppc advertising best practices have resulted in an extremely low cost-per-lead (CPL) for Family Law. The cost per lead (CPL) is the cost to receive one contact form submission or phone call.
Per the client's request we're primarily driving Child Custody leads, and devoting only a small portion of our budget to Child Support and Divorce advertising. If you feel we can be of service to your law firm call us now at 855-945-1596 or schedule a call.
Family Law Client Just Outside a Major City
This highly successful Family Law client, who asked that we not use their name, has outsourced their advertising to Webrageous for over six years now and averages around $3,500 monthly spend in a highly competitive urban area. Average cost per lead has ranged from $68 to $42 over the past six months. Divorce attorney keywords convert at about twice the cost per lead of Child Custody keywords, to maintain a lower overall CPL we aim for around 90% of leads to come from Child Custody keywords.

Willie Dasher – Family Law AdWords Results
Eric Willie has been a client for over 8 years now. Average monthly advertising spend for this Family Law Firm varies depending on the firm's case load. We regularly adjust or strategy based on the client's lead volume and case type needs. About 50% of lead volume comes from Divorce keywords, which average around 16% higher CPL compared to Child Custody.

We're not able to track calls from this client's website, below we can see the number of calls from ads per month (the caller clicks to call from the call extension displayed with the text ad). Based on other Family Law account performance we estimate there are close to twice as many total calls if calls from the site were tracked meaning that a realistic cost per conversion if we were counting all calls would be half the number shown above (lower is better). You can watch a video testimonial from this client at the end of our testimonials reel here.


Video Testimonials From 2 Divorce Attorney Clients
We have been managing this client's Family Law AdWords campaigns for 2 years. Starting in March of 2017 we began targeting only divorce leads. Running divorce only keywords has resulted in an increase in CPL over November 2016 when we ran custody keywords as well. Divorce leads are typically more expensive so this was expected and the client is happy with the results.

Please note that these cost per leads do not include our management fee because that varies depending on your spending.
Family Law Call Tracking Example
For one of our family law clients here is a summary of the calls they received in one week in the spring of 2017 when they spent $500 (plus a management fee). The client may have received some contact form submissions on top of this. to be honest this client does have a lower cost per lead than our average family law client. I want to point out 3 things:
Notice the high number of calls for only spending $500
Notice that there are some repeat callers which is a good sign
Look at the average call duration of five minutes. That's a really good sign – obviously the higher the average call length the better the call quality.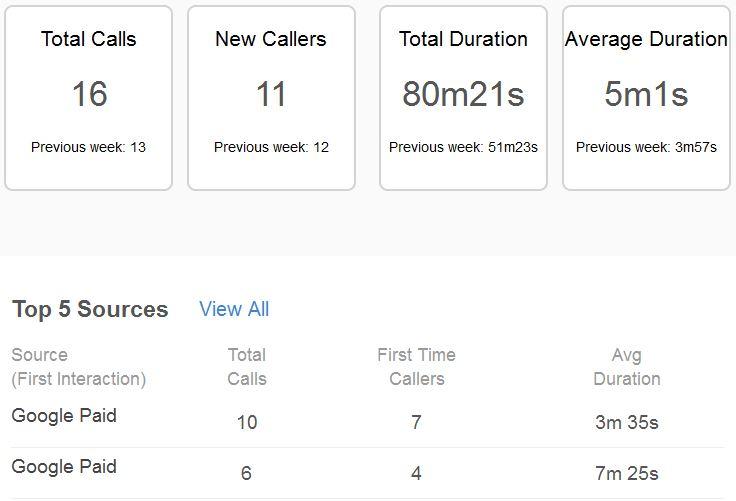 You might also be interested in our AdWords bankruptcy results page (about $45-$55 per lead).
If you're interested in having us manage your Google AdWords account please fill out our contact form or call us at 855-945-1596.
See The Results We Have Delivered For Other Types of Clients
Here is
another video testimonial from one of our family law clients
(sorry flash required to view – probably won't work on a cell phone).
See What Our Law Firm & Other Clients Have To Say About Webrageous