Watch All Webrageous Client Testimonials
please also scroll down to read more testimonials.
---
Jeff Schad

Seasoned marketing and public relations professional, published writer, communications expert.

October 17, 2019, Jeff was a client of David's

David has been managing our Google Ads account for about six months now. He manages an ad spend between $25,000 and $40,000 per month. The difference between his results in what was delivered by the agency before him are like night and day. He has volunteered to help at no charge with several other projects including managing some website improvements and reviewing strategy on our video ads. I highly recommend David.

Anthony Meeks

VP of Marketing at NetZero USA

November 29, 2018, Anthony was a client of David's

I worked with Webrageous about 10 years ago when I was working at Clear Choice USA marketing vinyl replacement windows. We were very pleased with the results and they did a much better job than other agencies we tried. I am now working at NetZero USA LED Lighting Solutions and we are working with Webrageous again. We tried other agencies and the results were not very good. I remembered the work Webrageous did and we brought them on board again and they turn things around within one month. In the six months since then the results have continued to improve.

Jason Davis

Senior Developer at Apollo Web Studio

August 11, 2014, Jason worked with David but at different companies

David is one of the best in the business for Pay-Per-Click advertisement management and has helped hundreds of sites achieve success in the PPC campaigns. I highly recommend his services on Webrageous.com to all my clients, friends, and even family. He is the man to go to for PPC management.

Todd Mather, AIA, NCARB

Principal at Todd Gordon Mather Architect

September 24, 2011, Todd was a client of David's

David has provided GDG web services in a timely and professional manner since we hired he and his company in early 2000. I would recommend him if you wish to have a consistent and timely web service and updates.

Ron Gajar

Real Estate Professional in Squaw Valley Ski Area, Lake Tahoe, Martis Camp and Lahontan

November 3, 2010, Ron was a client of David's

Our company worked with David since 2003. He has a deep knowledge of Google and other search engines. David is consistent and trustworthy.

Robert Vetchtein

President at Law Offices of Vetchtein & Associates

September 27, 2010, Robert was a client of David's

Expert in his field and extremely trust worthy. I would recommend David to anyone!!

Gary Davis

Principal at JK Architecture Engineering

September 27, 2010, Gary was a client of David's

We have been working with David for many years and have always been pleased with the level of service, his expertise, and high integrity. He has a long history in his business which shows in his work.

David Silberman

Co-Founder and CEO at Clinical Research Fastrack

September 27, 2010, David was a client of David's

David did a great job for our company. He more than doubled our lead flow on ad words and delivered as promised.

Elizabeth Carmel

Owner of The Carmel Gallery & Founder of AdvocacyVisuals.com & Naturestream.TV

September 26, 2010, Elizabeth was a client of David's

David did an excellent job helping us optimize our website for search results and setting up a google adwords campaign.

Jay Logan

Your Favorite Brogrammer

March 9, 2010, Jay was a client of David's

David and Webrageous helped our company achieve great results with AdWords. We were wasting money with poor performing ads for a while when David came in and created compelling campaigns that maximized our performance. I definitely will use them again if I am ever in need of professional AdWords management.

Larry Lawrence

CEO at Lawrence Realty Serving Squaw Valley Ski Area, Lake Tahoe, Martis Camp and Truckee

January 21, 2009, Larry was a client of David's

David has been very good at helping our office expand our internet presence. We have been very satisfied with his knowledge and expertise. I would highly reccommend him.

Jeev Trika

Digital Marketing Ninja

January 17, 2009, Jeev was a client of David's

David is a detail-oriented consultant who explores the business challenge thoroughly and then pushes real hard to meet the strategic objectives of his clients, except in our experience he always overachieved.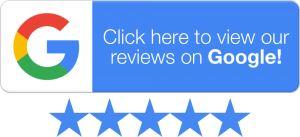 ---

---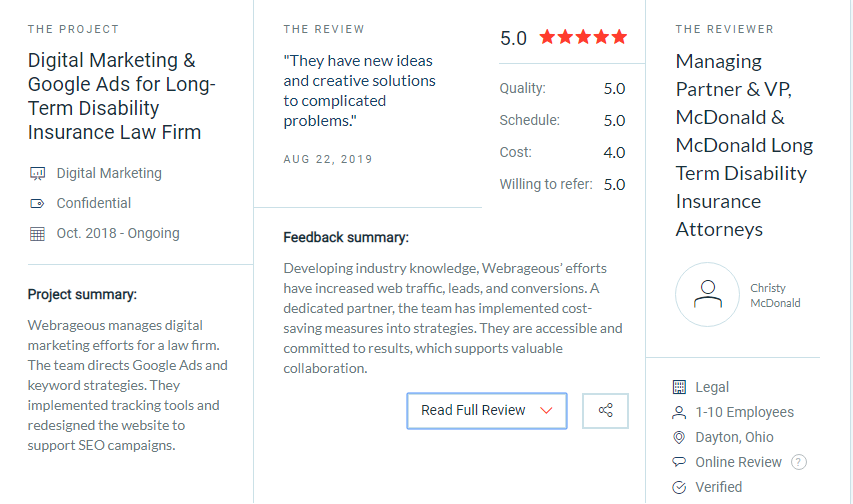 ---
---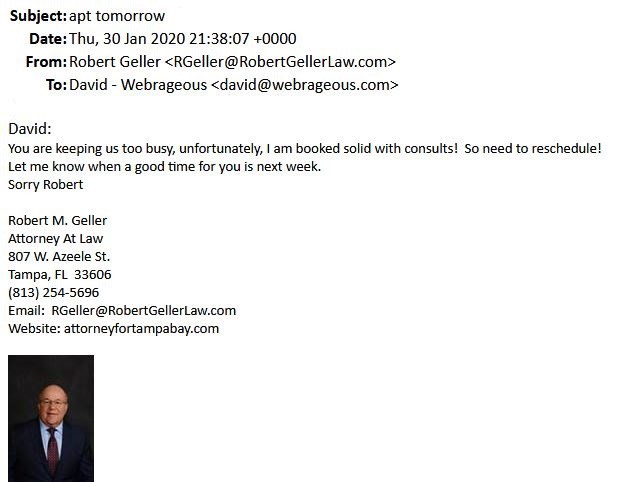 ---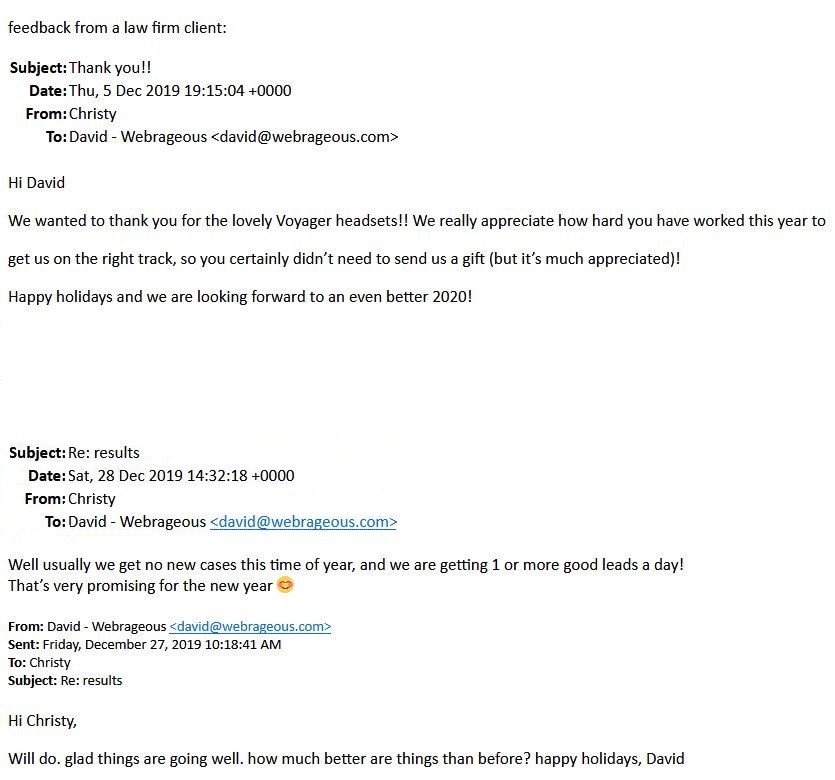 ---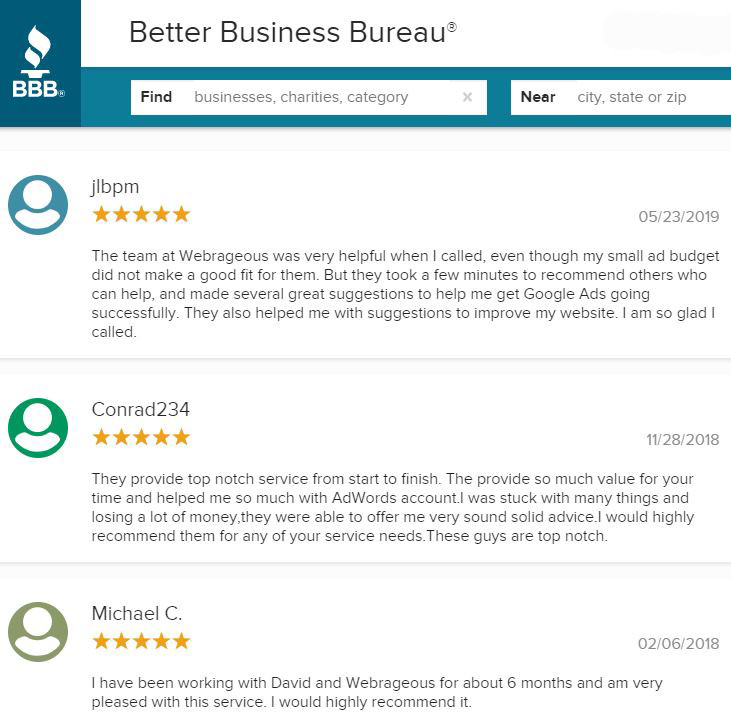 ---
"Webrageous Studios and David Chapman [have] been doing our pay-per-click advertising for the last 5 years or so. And through David's hard work and his expertise our web advertising has gone crazy. We're getting a ton of traffic to our site. There have been times when David has noticed some click fraud and has gotten some money back from Google and from Yahoo for these mistakes. I wholeheartedly recommend David and Webrageous Studios for all your pay-per-click advertising."
– Todd Schneider, Founding Partner, Schneider & Wallace, www.schneiderwallace.com
---
"I can't say enough great things about their creativity and how they are able to drive business to our resort……I highly recommend Webrageous Studios."
– Craig Roberts, Owner/Developer, Bahama Beach Club, www.bahamabeachclub.com
"Webrageous Studios' management of our pay-per-click campaigns and the search engine optimization they've done for us has drastically increased the number of new cases we receive from our internet marketing. David Chapman is extremely knowledgable and has infinite patience in explaining, consulting, and working with us to arrive at appropriate wording for our ads and budgeting for them."
– Bob Samet, Senior Partner, Law Firm of Ashcraft & Gerel, www.ashcraftandgerel.com
---
"I have been working with Webrageous Studios since July of 2003. I have found their services to be very beneficial to my business. They have been great to work with. Their ideas have been innovative. We have been quite pleased with our results from their work, and will continue to work with Webrageous Studios in the future."
– Larry Lawrence, Founder, Lawrence Realty, www.lawrencerealty.com
---
"Things are going well. I think we should turn the campaign off for a few days if you wouldn't mind. I'm just swamped again." – February 2016
– Eric Willie, Founding Partner, Law office of Willie & Dasher, www.williedasherlaw.net
---
"A little background on myself and how I came to know you – I formerly worked as a Sales rep for [a former client] and was a benefactor of your excellent PPC work. While I don't know what happened, the fact is that when you left lead quantity and quality dropped significantly. I was always impressed with the quality of your web leads and I feel you have the right stuff to help my current employer take it to the next level. Is there any time for us to speak briefly to see if there is fit?"
– Anonymous
---
"We are generally conscious that our account manager does a lot for our campaigns and I would describe our level of satisfaction as very high when it comes to her and by extension Webrageous. Again, we are very satisfied with the relationship and all the hard work that goes into running our campaigns."
– International Ecommerce Client
---
"I wanted to let you know that we have signed up 6 [family law] clients in March from the campaign. Have you made adjustments? Whatever we are doing is working. We have made internal adjustments to our incoming policy, but nothing too drastic. But hey, this is good news and I wanted to share it with you."
– Family Law Client
---
"I just wanted to thank you for the gift you sent from the bakery. That King Cake is delicious. I also wanted to thank you for continuing to provide such excellent service to me over the past 3-4 years. It has been a pleasure and I look forward to continuing to work together in 2014. Happy Holidays to you." – December 2013
– Eric Willie, Founding Partner, Law office of Willie & Dasher, www.williedasherlaw.net
---
"Damn!"
– Anonymous Client response to:
"Friday we had a record day of 71 leads and we beat that by about 15% with an increase to 81 leads on Google on Saturday! I was watching your account several times throughout the day and it looked like we were going to pull it off and we did!
I'm guessing we may blow through this record again sometime during the week. The cost-per-lead was also an all-time record low of $15.79 and we spent a total of $1.279. The budget for this month is $38,000 and I am guessing we will reach that sometime between the 25th and 28th of the month."
---
"Just want to let you know that the response to our new web page is fantastic so far. We have had many more calls and have converted new customers. This is June and it is our slow time-but it is really busy."
– Print Shop Client
---
"I'm on my way to the airport to pick up my 911……You had a lot to do with this my friend…"
– App Development Client
---
We do not guarantee results. In the testimonials video and written testimonials we highlight real testimonials from some of our most satisfied clients. Your results may vary. You may not fall as madly in love with us as these clients. Your love for us may fade over time. Or it may grow stronger. You may be unfaithful to us and be tempted to try another firm. You may come back. Like any relationship it's hard to predict these things with certainty. But we promise to try our best to deliver amazing results for you.