Google Ads Management for Drug and Alcohol Rehab Treatment Centers
You know better than anyone that your addiction treatment facility provides an exceptionally important service to the community. Getting the word out to those who need it via drug and alcohol rehab pay per click ads is essential when demand for rehab treatment is, unfortunately, as high as it is.
Due to the complexities of running drug and alcohol rehab ads and their relatively high expense, management of your drug and alcohol rehab Google ads presents some challenges that require a knowledgeable handler.
As with any industry, there are predators using substance abuse rehab pay per click ads to locate vulnerable people who just want to get well. Drug and alcohol abuse counseling is a $35 billion industry in the United States, and in 2018, unapproved and fraudulent use of Google Ads for drug and alcohol rehab forced Google to revoke the use of ads for this purpose so they could revamp their vetting process. We begin by detailing this process below and then discuss why leveraging an experienced firm for your drug and alcohol rehab Google Ads management is vital to the success of your campaigns.
The additional challenges associated with management of Google Ads for addiction centers make it imperative that you use a specialized drug and alcohol rehab pay per click management expert. You need someone who is knowledgeable, experienced, and can walk you through the sensitive process of serving your ads to the patients who need them most—in your community and beyond.
Take a look at how successful our launch was of a new drug and alcohol rehab campaign.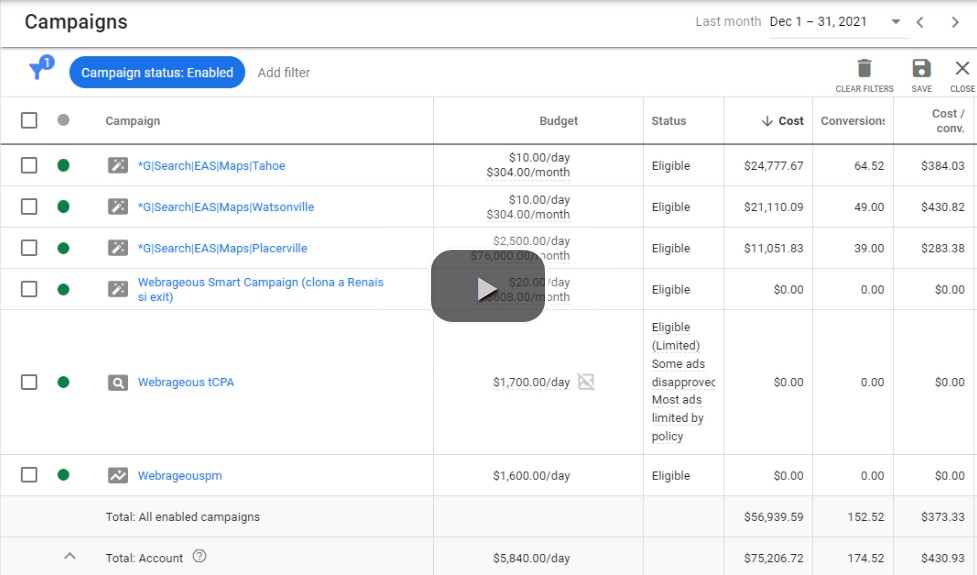 The Controversy Surrounding Drug and Alcohol Rehab Ads on Google
In the wake of the devastating opioid crisis in the United States, which the CDC estimates accounted for 70 percent of the drug overdose deaths in 2019, rehab facilities have become big business. By 2017, so many unscrupulous facilities offering substandard treatment had sprung up that Google determined that few of them could be trusted, and the ad stock dropped to just 96 percent of its previous availability.
Google needed a way to ensure that the results it was providing to those in need of treatment were legitimate. A search engine whose results cannot be trusted will quickly lose credibility with its users—and left unchecked, this loss of trust could have affected other markets besides just drug and alcohol rehab treatment facilities. If one set of search results is faulty, there could be good reason to call any of its results into question.
LegitScript Certification
As of 2018, Google came up with a solution that allowed legitimate providers to prove themselves to search engines and social media platforms via third party certification. LegitScript is the company that currently vets and certifies drug and alcohol treatment facilities to ensure that rehabs are licensed and staffed by qualified professionals that follow best practices. Only those facilities that are certified by LegitScript are able to use Google Ads to advertise to the public. Not only does this ensure that Google remains a trusted source for the public to select a reputable and effective treatment center, it also lends a layer of credibility and standardization to all facilities they certify.
We've advised multiple rehab treatment providers through the process of becoming LegitScript certified. It's important to understand that not all substance abuse care providers are eligible. Your facility must be based in the United States, and if you are a referral service or lead generation operation, you are not eligible. Nor will you be eligible if you provide a sober living environment without onsite, qualified treatment staff. But for legitimate, certified clinical treatment facilities—whether inpatient or outpatient—crisis hotlines, and mutual support groups, it is no more difficult to become certified through LegitScript than to apply for any other accreditation. The process is thorough but not unwieldy. It requires proof that you are insured, properly accredited, and registered as a corporation along with details of any past litigation, prior owners, and your policies and procedures.
Receiving certification from LegitScript can take several weeks to several months, and there is an expedited option if you're in a hurry. The regular application fee is $995 with an annual fee of $1,995 to maintain your certification.
Keep in mind that it doesn't make sense to go through the process of getting certified if you don't know how to create successful campaigns—and that's where drug and alcohol rehab Google Ads management comes in.
Why You Need Drug and Alcohol Rehab Pay Per Click Management
When you have a legitimate rehab facility that is dedicated to saving lives, drug and alcohol rehab pay per click management is an ideal way to get your facility in front of the right audience now, when they need it most. In 2019, more than 70,000 Americans died of a drug overdose involving illicit drugs and/or prescription opioids, and that number is rising. It's vital that you connect with the people whose lives depend on your services.
As you know, only a handful of treatment centers can appear in the organic search results on the first page. Google Ads allows you to bypass labor intensive content marketing and put your message front and center—and a drug and alcohol rehab pay per click management consultant can do that more cost-effectively than anyone.
One of the challenges of running pay per click rehab ads is that they can be relatively costly. As compared to the cost of other health care specialties, a drug and alcohol rehab ad will typically cost you twice as much. Given the expense, it's important to use a drug and alcohol rehab pay per click management specialist to help you to determine your campaign goals. They will assist you in getting laser focused on who you most want to appeal to and to create messaging that speaks to their issues gently but persuasively. Messaging in itself is an art, but convincing a cold lead to check out your facility in only a handful of words requires a true expert. They must be able to create persuasive copy that pulls all day, every day.
Know Your Avatar
Your avatar (or, more likely, avatars) represents the typical prospective client who is searching for your services. It's likely that an experienced drug and alcohol rehab Google Ads management team can help you think through many aspects of your targeting that you may take for granted.
Remember that when advertising to those suffering from alcohol and drug addiction, you are dealing with highly sensitive situations, and your ads need to reflect this. Those reaching out for help are likely scared, conflicted, and feeling helpless and overwhelmed. You need to talk to them in a way that is welcoming and convey the sense that your services are effective as well as manageable, supportive, and safe. It's important to know what to say—and what not to say. An experienced drug and alcohol rehab pay per click management team will ensure that your messages are both appropriate and sensitive.
Your drug and alcohol rehab Google Ads management team will be able to walk you through contingencies that you may not have considered. It is important to remember that the patient is not the only person who may be searching for help. Parents, spouses, and even adult children may be looking for guidance for their loved one. Sometimes they will be searching on behalf of someone who is ready to receive treatment. However, friends or family members may also be looking for help in desperation and may have yet to convince the addict that help is required.
It's also important to consider whether your patients will mainly be local or if you have a national reputation that draws patients from neighboring states and beyond. If you are only accredited to treat patients from within your state, it's important to be able to account for this in your geotargeting. You certainly do not want to waste clicks on those who cannot avail themselves of your services.
Do you run an inpatient or outpatient facility? Do you offer holistic and complementary therapies along with recognized and approved treatment plans? Do you offer support for family members and loved ones? If so, how can you appeal to those who are looking for such services? The answers to all of these questions will inform your marketing campaign and add greatly to the success of your drug and alcohol rehab pay per click ads management.
Once all of your possible avatars have been delineated, you want your drug and alcohol rehab pay per click management team to create ads that speak to each of them specifically with keywords that match. But at Webrageous, we don't stop there. We are equipped to help you create targeted landing pages that sell to the avatar in question.
Imagine that the mother of a teenager who needs help with an addiction Googles "how to help my son overcome opioid addiction." Your ad appears at the top of the search results, so she clicks on it. Then she lands on a page that speaks directly to her. It doesn't talk about checking yourself into rehab—rather, it talks about the pain of parenting a child who is addicted and discusses the solutions available at your treatment center. It even mentions the particular drug that he is having issues with. This is the power of targeted landing pages, and our drug and alcohol rehab Google ads management team is the best in the business at creating them.
Advantages to Using Webrageous for Your Drug and Alcohol Google Ads Management
As we've said above, cultivating trust is a major factor when dealing with the sensitive matter of drug and alcohol rehab and treatment. Our professional laurels are among the best in the business because our long and varied presence in the space gives us experience that few can offer. In other words, there's no paying to get to the top in our business! We gained our expertise by being early adopters of the Google Ads technology and by constant trial and error and refining our processes to continually shave costs from your clicks.
Webrageous has an A+ rating with the Better Business Bureau and has received multiple industry awards including the prestigious "Top B2B Company" designation by Clutch, a leading ratings and review platform for IT, marketing, and business service providers. Our clients agree with these industry evaluations; we have more than an 85 percent client retention rate, and more than half of our clients have been with us for three years or more.
When selecting a management service for your drug and alcohol rehab Google Ads, it's not wise to take chances. You want to work with someone who has navigated these waters before and has both the experience and the strategic know-how to ensure that the ROI on this comparatively expensive ad set meets or exceeds your expectations.
Contact Webrageous Today!
When you are providing critical, potentially life-saving treatment to the public, you need drug and alcohol rehab Google Ads management from a trusted source. You want them to be able to represent you with dignity and convey all of the elements of your treatment plan that set you apart from the competition. Our highly experienced staff of account managers, advisors, key word researchers, copywriters, and implementors work together seamlessly to create campaigns that convert.
When considering a drug and alcohol rehab Google Ads management team, it's important to choose a firm whose account managers are certified by Google in the science and art of running pay per click campaigns. At Webrageous, we are proud that everyone who plans, executes, and oversees your campaign is Google Ads certified. And when it comes to reporting the status of your campaign, our account managers do as much hand holding as you need to ensure that you understand the results and how we are going to continue to improve on them every day. We don't just want to get your business; we want to keep it.
When you're ready to engage the best drug and alcohol rehab Google Ads management in the business, we at Webrageous are ready to serve you. Call us today at 855-945-1596 to get started with a customized campaign.