Webrageous has been helping personal injury/auto accident attorneys for over 15 years now. Take a look at the low cost per lead we are seeing for personal injury/auto accidents lawyers in 2021: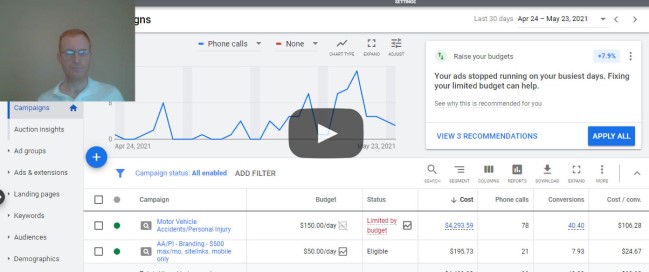 A large number of firms that target personal injury/auto accidents are also interested (or aspire to be interested in) pharmaceutical liability/medical device liability campaigns. This page has more information about our experience in this area. And you can also read about our experience with bankruptcy marketing and family law marketing.
Please note that these cost per leads do not include our management fee because that varies depending on your spending
If you also are targeting other kind of cases please check out our page highlighting our bankruptcy attorney results and family law attorney results.
Here at Webrageous we have over 15 years experience managing Google AdWords advertising for personal injury attorneys.    Please fill out our contact form or call us at 855-945-1596 if we can be of help to you.
See The Results We Have Delivered For Others
See What Our Law Firm & Other Clients Have To Say About Webrageous