4 Online Marketing Predictions for the New Year by Webrageous Studios
What can PPC Advertisers, SEOs, Online Marketing Managers and the like expect from the world of online marketing in the New Year?
Webrageous Studios has been in the business of PPC and has kept a healthy enough eye on its surrounding areas, including SEO and Social Networking for example, to know that the following trends are likely to continue and develop during the course of the New Year.
Anybody working in any sector of online marketing in any way should take stock of what Webrageous Studios has to report if only to be aware of trends that are likely to happen in the not so distant future. The more PPC and online advertising savvy individuals amongst you out there may even start to think of ways in which your own online marketing campaigns could begin to develop by taking advantage of the insights you will gain from what you are about to read.
What is non-debatable is that Webrageous Studios as a Google AdWords Qualified PPC Management Company and specialist in the PPC Management of US law firms has some significant and important information to share. We hope that you are interested in what our experience and hard work is about to reveal…
PPC CPCs to Increase
It is more than likely, judging by general trends from this year and the previous one too, that CPCs are going to increase. As PPC becomes more competitive and more people want to begin advertising through PPC, bidding on the whole is going to become more costly if you don't know what you are doing.
This is why you need to have a PPC Management Company working for you; one that is experienced in bidding management and running a budget well. You need a PPC Management Company like Webrageous Studios that knows what it is doing so that money is managed well and CPC needs do not increase unnecessarily. Just because the trend suggests that CPC will increase, this does not mean that your CPC needs to be one of the CPCs which increases the most.

Social Networking and PPC Working Together
Social Networking Sites, like Facebook and Twitter for example, are not ever going to replace the power of PPC and indeed should be managed in an entirely different way to the way in which PPC Advertising is managed. For a start, most Twitter and Facebook users are not on the sites to buy. They are there to share, get up-to-date and socialize.
However, if you are advertising through PPC and have no idea of how to utilize the branding power of Social Networking Sites, you need to learn how to get in touch with the social networking crowd as soon as possible.
Why?
Because Facebook is an excellent way to get people interested in your product and to connect with your brand. You can create a loyal, life-long customer if you employ the powers of Facebook well. Facebook won't necessarily make the user convert, but it may draw them to a landing page on your website with more information that will make them convert.
If you haven't yet recognized the potential of PPC and Social Networking working together, the year ahead is not going to be a very successful one for your online marketing campaigns.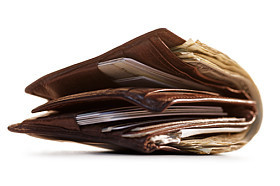 Cost-Driven Customers
The recent trends suggest that if the product you are selling is cheaper than elsewhere or is a really good deal for the price offered, the internet user is more likely to buy your product. Internet users don't just follow one pathway of clicks to the end and then buy anymore. They follow a pathway of clicks, stop at the conversion point, go back to a Google SERP and start again with another company (unless they trust your brand and are looking for you particularly).
You either need to find a way of keeping the prices of your products below that of your competition, or you need to have other marketing elements (social networking, website content, blog content, reviews on third party sites, listings on third party sites, etc.) all working in favor of your PPC Campaign. You need to feed your interested internet customer with information about your product and make yourself appear on many places on the Internet building up your company brand instead.
If you cannot keep prices low or you don't engage your customers on a higher level, you are going to lose those customers to the guy charging less for the same product.

Get Mobile
More and more people are using smart phones by the day and more and more people have access to the Internet "on-the-go" which means that tools such as Google Places are really worth investing in.
Imagine the scenario…
Someone is out in the street, hopping busily from one place to another on one form of transport and another, when they suddenly realize that they didn't photocopy that important document that they need for their next meeting. They can't show up without it. It is unprofessional. But they don't have time to scour the streets for a photocopy shop.
This is when your PPC advertisement on Google Places comes into play. They find your advertisement, come to the store and photocopy their important document. What's more, they now know where your store is and the next time they are in need of a photocopy store in the area, they may not even bother to check the Internet to find one because they already have one in mind… YOURS!
People are mobile… you need to get mobile too for the New Year!

In conclusion
Keep up with the times. Bear in mind these developments and trends as we approach the New Year and your PPC Campaign will continue to soar. If you try doing what you have always done, you are going to lose out eventually and be left behind. Start building ideas and plans of action today and contact Webrageous Studios with any help you may need with any of the above whenever you are in search of support.