Is your Google Ads campaign optimized for mobile users? In today's smartphone-saturated culture, it's crucial to cater to this segment of your audience. Not taking mobile users into account could mean missing out on lots of potential business.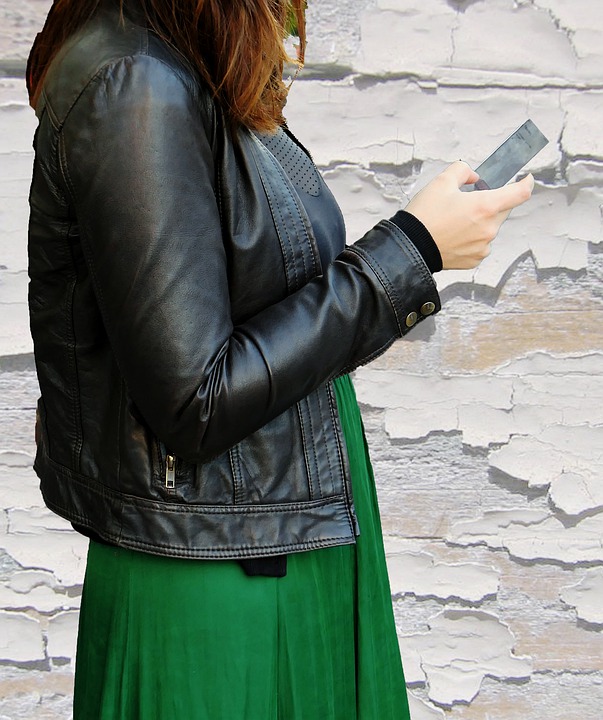 (Pixabay / moritz320)
Did you know 88% of people who search for a local business on mobile call or visit the firm within 24 hours? Or that 9 in 10 smartphone users who get a relevant or helpful mobile experience from a company would repurchase from that business again? These mobile statistics matter, especially when you're running Google Ads.
In this article, we'll share four simple ways to help you optimize your ads for mobile. Before that, we'll set the stage by discussing how mobile ads are different from desktop ads. While many legal advertising professionals tend to ignore PPC's mobile side, it's time for you to get your head out of the sand and make a solid impression on the small screen.
How Are Mobile Search Ads Different?
Running Google Ads on mobile is different when considering variables such as the device, time, and location of users. Additionally, you must factor in a mobile searcher's intent to identify the best way to target them. For example, a mobile search for a "personal injury lawyer near me" might indicate that a person has recently suffered a personal injury and is actively looking for legal services.
The power of mobile ads lies in their ability to connect you with prospects who are actively doing searches that directly relate to your service. Compared to desktop search ads, mobile ads can get people to contact you faster. All you have to do is optimize these ads for conversions.
4 Ways to Optimize Google Ads for Mobile
If you've never optimized your Ads campaigns for mobile, it can be hard to know where to begin. And if you do the bare-minimum (expand your targeting to include mobile and different operating systems), it's unlikely you'll get a solid return on your investment. Below are some tips on how to run effective mobile search ads on Google: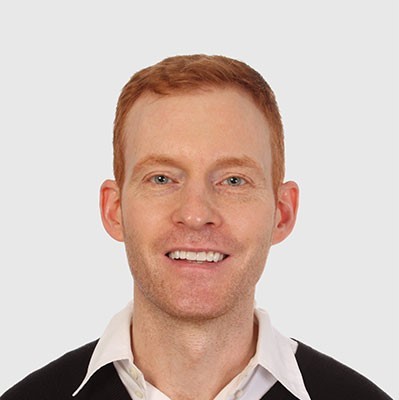 Need Google Ads Management Help?
Free Google Ads account review for
qualified clients
Most clients work directly with the founder
Almost 20 years experience
1. Create mobile-friendly landing pages
Before anything else, it's important to create a mobile-friendly landing page experience for your audience. The pages that you intend to redirect people to should be easy to navigate on a smartphone. Go easy on images, get rid of non-essential text, and put links in a collapsible menu. Also, place your CTA above the fold so people know from the beginning what they stand to gain by contacting your firm.
You may also need to consider compressing visuals and minimizing HTML and CSS to make the landing page load fast. Tools like CleanCSS and JSMin make it easy to minify your files for mobile. Smaller files make pages load faster. Fast loading times make people happy, and happy people convert more.
2. Use mobile-specific ad extensions
Ad extensions are cool. They allow you to add more information to your ads. Plus, they don't waste your budget as people don't have to click to see that information.
There are various ad extensions for Google Ads, but we recommend focusing on call and location extensions when you're targeting mobile users.
Location extensions – display your firm's address in the mobile search ad. The address is a clickable link that will inform your customers how to commute to your office. Since people searching for a law firm on mobile might be in a hurry for that first consultation, location extensions can be a game-changer for your business.
Call extensions – allow people to initiate a direct call to your firm. You can combine them with ad scheduling to display your number only when your sales reps are available to answer the calls. This is an extremely convenient way to increase conversions – phone calls have a staggering 30 to 50 percent conversion rate, which is a lot more than the 1 to 2 percent clicks bring in.
3. Set up ad customizers
Google Ads come with this nifty little feature that lets you tailor your ads according to a user's time, device, and location. You can leverage these ad customizers to deliver custom ad experiences to different segments of searchers.
Let's say your law firm has branches in different locations like Chicago, Los Angeles, New York, and San Diego, and you decide that you want to give different offers in each location. Ad customizers can help you display ad text that's specific to a certain location. Customizers will dynamically update your ads based on the device used, user's location, time, and search query.
Consider this example: A Chicago-based individual suffers a personal injury at work because of his employer's negligence. After, he decides to sue his employer and googles "personal injury lawyer near me." Here's how a Google Ad utilizing ad customizers might display: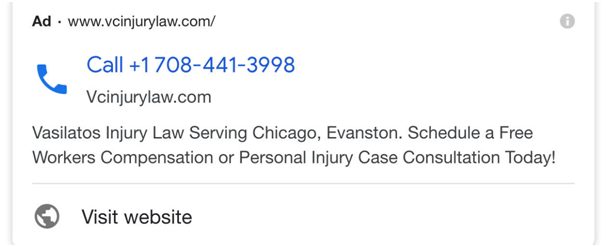 Look at how the ad copy, especially the "Serving Chicago" part, resonates with his search intent. The person looked for a personal injury lawyer in their location and found one that caters to Chicago-based victims.
To set up ad customizers for your campaign, refer to this Google Support page.
4. Write mobile-specific ad copy
When optimizing Google ads for mobile, keep the copy short and engaging. Also, be precise about what people will gain when they click on your ad. In a sentence or two, explain what action you want them to take, when you want them to take it, and what they will get in return. For example: Call now. Get a free case evaluation.
You can also test the benefits-oriented language. The benefits for a mobile searcher are often distance-, time-, or location-based. Words like "Serving People in Your City" or "24 Hour Staff" can positively impact your click-through rate.
It's also a good idea to test CTAs with a mobile twist. For example, instead of saying "contact us today" or "subscribe in one click," you can use the CTA "tap to call" or "get a quote on your phone" to see if it brings an improvement in your conversions.
Pro tip: Using sitelinks in your ads can make them really stick out amidst the crowd. These are hyperlinks to website pages that appear at the bottom and top of some Google Ads. You can customize these for mobile devices to catch a prospect's eye as they're scrolling down their screen. Sitelinks pointing to an FAQ page or customer testimonial page can help drive lots of eyeballs to your ad.
Conclusion
These are a few things you can do to ensure that your mobile ads perform as well as your desktop ads (if not better). For top results, always be testing to find out what works best for your campaign. You might find that a certain mobile copy results in low conversions with one segment of your audience, but the same copy is killing it with another audience. Insights like these will enable you to tweak, modify, and add for ROI improvement. Lastly, don't forget to match your ad copy and landing page experience with user intent.
If you're not sure about running mobile search ads yourself, contact a Google Ads specialist at Webrageous today. We specialize in pay per click management for personal injury attorneys, and we can help you set up the right ads for mobile. Get in touch with us today to learn more about our expertise and how we can assist you in capturing those mobile searches and converting them into sales.
Video