It's no secret that Google Ads are getting more competitive everyday. Your competitors are constantly raising their budgets and increasing their bids to get the top google ad placement. I guess you might as well just throw in the towel and move all of your efforts over to Bing Ads and dare i say…Gemini.
Well if you haven't already jumped ship there is another way to help compete with and beat your competitors on Google without necessarily raising your budget and bids… Optimizing your Google Ad Extensions!
The truth is that most of your competitors Google ads aren't even optimized let alone their Ad Extensions. So how can Optimizing your Google Ad Extensions help increase my campaigns CTR and Conversions? I'm glad you asked!
Take up more "Real Estate" with your Ads
Imagine you are searching for something online, let's say " personal injury attorney ". The first 3 results you see are ads. If all of the ads are relatively close in messaging and quality what do you think will get you to click on one of the ads? You will most likely click the ad that takes up the most space (real estate) on the screen. This alone will help increase your Click Through Rate (CTR) substantially.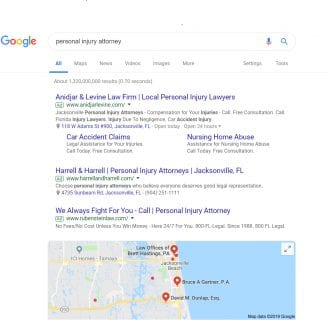 Optimized Ads/Ad Extensions = Better User Experience
One thing i learned years ago is that Google likes for its users to have a great experience. Another thing that i learned is that if your ads give users a good experience, Google will reward you. How does Google reward me, you ask? Well, Google will let you have higher Ad placement with lower bids than your competitor as well as lower your Cost Per Click.
Higher CTR on Performing Ads = Increased Conversions
In the end it's all about the Benjamins! Google Search ads are almost a science when it comes to scaling conversions. Assuming all other factors remain the same, an uptick in CTR and impression share due to overall Ad Quality will typically lead to an incremental (give or take)  increase in conversions.
Now for the moment you've been waiting for… How Do I Optimize my Ad Extensions to increase my CTR and Conversions?
Use ALL Relevant Ad Extensions!
On almost every Google Ad account we review there is at best a hodgepodge of Ad Extensions. Certain devices will focus on specific extensions so using as many types of Ad Extensions as possible help give you a higher chance of taking up more "Real Estate" than your competitors. The typical Ad Extensions that are relevant to most companies are: Sitelink Extensions, Call Out Extensions, Structured Snippets, Call Extensions, Review Extension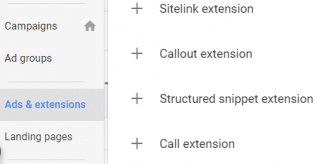 Create 3 – 5 Variations of each Ad Extension
It's easy to just make one half hazard version of each Ad Extension but you will do much better by creating 3-5 variations. Some versions will do well and some will do not as well but that will
allow you to optimize them over time.
Create Ad Extensions Tailored for each Ad Group/ Base Keyword
A lot of Google Ad accounts are full of Account Level Ad Extensions which typically means they have general Ad Extensions that aren't relevant to all of their keywords. If you segment your based keywords by Ad Group you can create Ad Extensions that are tailored to those keywords. Keyword Tailored Ad Extensions = increased CTR = Increased Conversions!
Now that you know how to optimize your Ad Extensions you probably want to know what a good Ad Extension looks like:
Sitelink Extensions
Here you see that our Site Link Ad Extensions are somewhat general but they do cater to things that people look for with Personal Injury attorney. These not only provide more "Real Estate" but also build more confidence with the user.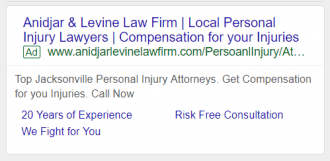 Call Out Extensions
Our Call Out Ad Extensions are similar to our Sitelink Extensions in their ability to build confidence with the user.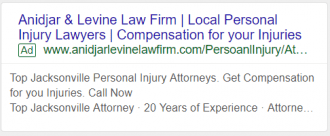 Structured Snippets
Our Structured Snippets here are focused on different types of of services that the law office performs that are also popular keywords.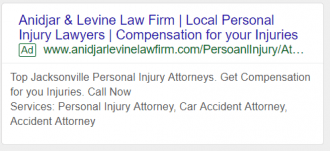 There you have it. Now that you have the concepts and strategies to optimize your Ad Extensions you can use them to get the edge on your competitors and increase the performance of your Google Ads. While it does take a little more time to build out these optimized Ad Extensions, i can assure you that the performance you will get from them is well worth it.