Google Ads PPC for law firms is highly competitive. Poorly managing campaigns risk losing money and wasting your firm's valuable resources. While we can help clients in any sector of law firm PPC marketing, we specialize in creating campaigns for personal injury, bankruptcy, family law, and pharmaceutical liability.  Below you'll see current cost per lead data for 2 of our personal injury/auto accident clients. Often we can generate leads for personal injury attorneys under $200 per lead and bankruptcy leads usually cost less than $50 per lead. 
Webrageous has managed PPC campaigns for law firms for over a decade, giving our in-house PPC experts a wealth of knowledge when it comes to developing strategies for maximum visibility. 
A Law Firm PPC Bid Management Strategy that Works
Mobile PPC is a relatively new and constantly evolving space. For many of our legal clients, implementing mobile campaigns is an effective means of reaching their target audience. When done properly mobile can be a great way to drive a high volume of calls. Take a look at the screenshot below. As you can see we're driving a lot of calls for this personal injury law firm every week. (Further below this article you will see results we have received for bankruptcy and family law) Calls are more likely to turn into clients than contact form submissions. It is a lot easier to answer calls than to chase down someone who filled out a contact form. These results are from early 2017 and are in a big city with lots of competition.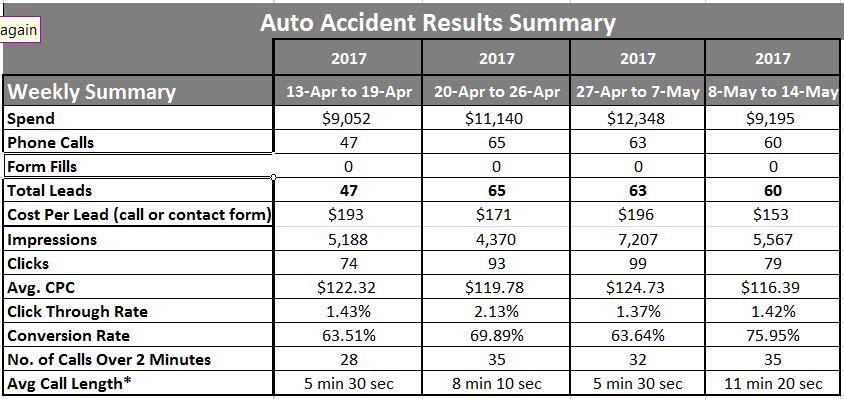 For another law firm in a smaller city their cost per lead for personal injury/auto accidents is under $140 as of January 2017. A lead is defined as a contact form submission or a call over 30 seconds: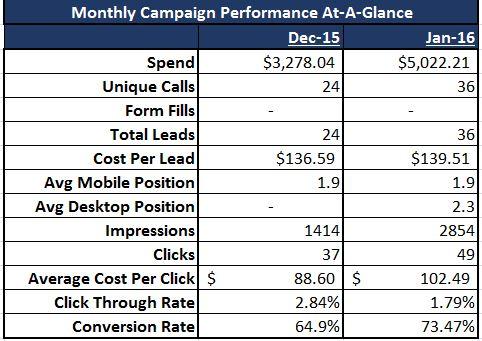 And here is the breakdown week by week. We truncated the last 2 weeks of January as the image was rather wide:

Personalized Attention

One of the biggest advantages we offer is a great ratio of account managers to clients. The average account manager at Webrageous manages under 10 accounts. Many of our competitors hire account managers who are expected to manage 80 accounts. It's very hard to make a difference if you have 30 minutes a week or less to devote to each client. Here at Webrageous our account managers have 4 to 8 hours per week and sometimes even more to commit to newer clients.
Results for Family Law and Bankruptcy
Here are the results we have seen recently for 2 other practice areas. Highlighted are the CPL's (cost per leads) – the cost to receive a contact form submission or phone call. Mostly we are driving phone leads – the best kind of live leads.
Family Law:

Bankruptcy:

See The Amazing Results We Deliver for Bankruptcy Attorneys With Google Ads
A Track Record of Success with PPC Management for Law Firms
Webrageous has extensive experience with managing bid management and keyword strategy for law firms. Since we took on our first legal client over 10 years ago, we've helped dozens of companies get the AdWords campaign results they want across a variety of legal sectors. While we can help clients in any sector of law firm PPC marketing, we specialize in creating campaigns for personal injury, family law, bankruptcy, and pharmaceutical liability. Hear what our clients have to say about working with Webrageous in the video below. The first testimonial is not from an attorney but the rest of the testimonials are.
See The Results We Have Delivered For Others
How Webrageous Can Help Your Law Firm Reach Their PPC Goals
We have extensive experience developing and managing high-performing Google AdWords campaigns for lawyers.  We have an A+ Better Business Bureau rating and our results are so effective that most of our clients contract with us for multiple years.
With Webrageous, you'll be able to transform underperforming campaigns into a major marketing channel for your business. Call us at 855-945-1596 to talk to us today about the benefits of working with Webrageous to manage your PPC campaigns.