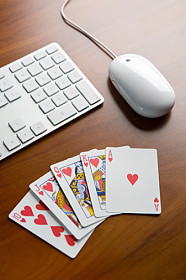 There are some PPC Advertisers and PPC Managers who feel that working within the Google AdWords Network can be more hassle than it is worth. It is true that Google AdWords is one of the most complex networks that offers PPC Advertising (this is why it is important to study and become Google AdWords Certified), but this is because it is also one of the oldest, most experienced and most effective networks for PPC Advertising available today.
Achieving Google AdWords Success
Google's search engine is used by millions of internet users as a way of looking into a certain subject area, or as a form of research before buying a product. It is also a way of keeping up to date with the daily news across the globe.

For this reason, the advertisements that are triggered by keyword searches are seen by a huge number of possible converters. This is one of the reasons why a lot of people still want to achieve Google AdWords success. It is one of the best PPC Advertising Networks, giving you better control over bidding, placement times, advertisement copy and advertisement form.

This control ultimately means better focus and better reach. Essentially, PPC Advertising through Google AdWords may require time and attention, but upon achieving Google AdWords success, it is advertising money well spent at the same time.
The Challenges Before the Success
However, like any huge corporation, Google AdWords in the past has received bad press now and again for a number of reasons. PPC Managers have been known to comment on the fact that they feel restricted by the many rules, or that they have been treated unfairly and the like.

However, this is only because Google is incredibly careful about the service that it provides for the internet user through Google AdWords and this kind of customer care should really be applauded.

The Google AdWords team works every day to make sure that the experience of the internet user is the best that it can offer. For this reason, there are many rules for PPC Advertisers and PPC Managers to follow. It is actually one of the reasons why there are still a lot who have experienced Google AdWords success despite all the negative press. When working within the Google AdWords Network, the experience of the internet user must always be high on your list of priorities and if Google thinks that this is not the case — if it thinks that something you are proposing to present to the internet user is not appropriate in one way or another, your actions are going to be brought under the microscope for serious review, hindering any chances for you to attain Google AdWords success.

Therefore, Google AdWords may be a complex system within which to work as a PPC Advertiser or PPC Manager, but it is definitely one of the best. Google should be commended for the continued work it does every day to ensure that the experience of the internet user is the best experience it can provide, and for the stringent rules that eventually lead to unparalleled Google AdWords success.

To become a part of the Google AdWords Network, read the article about becoming Google AdWords Certified on the Webrageous Studios Website.