First and foremost, Webrageous Studios is a Pay Per Click Management Company, specializing in both MSN AdCenter and Google AdWords PPC of family law firms.
Secondly, we are offering to design and give away a FREE website to any new family law firm client looking to invest in pay per click advertising from today.
Understand that Webrageous Studios started out as a successful web design company and this is where we have the edge over a lot of other PPC Management Companies in terms of being able to offer an all-around service to divorce attorney clients.
Free Family Law Website Design
All fami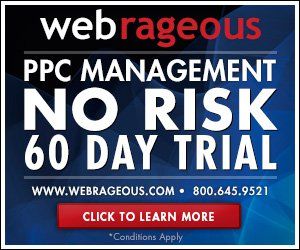 ly law firm clients can take advantage of the following Google AdWords and FREE website design offer from today as outlined below:
Outsource your pay per click management to Webrageous Studios.
Spend at least $2000 on your Google AdWords advertising every month. (Please remember that there will be pay per click management fees that we will charge you for too. Contact us about our fees at any time).
IF YOU DO THIS, Webrageous will design and create a completely new website for your family law firm for FREE.
Check out one of the FREE websites that one of our pay per click advertising clients is already using to promote his law firm.
When Webrageous Studios is contracted by a family law firm in order to completely manage that law firm's PPC needs on a daily basis, the family law firm soon begins to realize that it is receiving a lot more than simple PPC Management for its money. That family law firm is receiving an entire online marketing package that will help in the development of new clients for the business whilst through both online advertisements and website user-friendliness.
Family law website design is a specialized area of website design that requires the skills of someone trained in the development of websites for this specific line of business. The requirements of family law website design in comparison to the requirements of a hair dressing salon, for example, are extremely different and this should be reflected in the website design in many ways.
Navigational needs in family law website design are specific to the line of work in question. Indeed, the actual artistic design of the family law website is perhaps not as important as the concentration needed on the placement of important contact information, or the style and vernacular of the website's content, for instance.
Why?
Years of experience tell us that this is the case and this is why the Pay Per Click Management that Webrageous Studios offers is a cut above the rest. Family law website design needs a trained professional to see the areas which are lacking; to see the missed opportunities that can be gained with just a few small, but essential, changes to layout, content and audience relationship.
In general there are a number of fairly common mistakes that are made by many people when it comes to family law website design and Webrageous Studios would like to share with you some of the most common mistakes via its article, Common Family Law Website Design Mistakes. We hope that after reading this article, your family law firm will recognize the advantages of working with Webrageous Studios on your Pay Per Click Campaigns and online profile in general.
Within weeks we can have your online advertising efforts doing more for your family law firm thanks to an improved family law website design and an even better Pay Per Click campaign. We've not had a family law firm drop our Pay Per Click Management services yet and we are doubtful that this will ever happen in the future.