The irony is simply too good to ignore, but there are many divorce attorneys out there who are so happy with the Pay Per Click Management Services provided by Webrageous Studios that they are willing to make a commitment for life. If Webrageous Studios' divorce attorney clients could marry with Webrageous, they would!
Webrageous Studios is one of the best Pay Per Click Management Companies in operation today via the Google AdWords Network. It provides a fantastic service which not only demonstrates a wealth of expert knowledge, but which also creates true success for its clients. The online marketing strategies employed by Webrageous mean that its PPC Advertising divorce lawyer clients benefit from increased quality score, higher conversion rates and a much healthier looking ROI.
As a simple example, one of Webrageous Studios' divorce attorney clients in Austin, Texas, had 21 potential clients fill out his contact form in one month thanks to the Pay Per Click advertising strategies of Webrageous Studios. The same divorce lawyer client also received a huge number of direct phone calls as a result of the PPC Advertising Campaign that Webrageous Studios had put in place.
In addition, this particular divorce attorney has also reported that he recently signed off $10,000 worth of cases in one week thanks to the PPC Management skills of Webrageous Studios. His advertising costs only reached $1000 for that week too and therefore he is more than just a little pleased with these results.
See the results from this campaign below.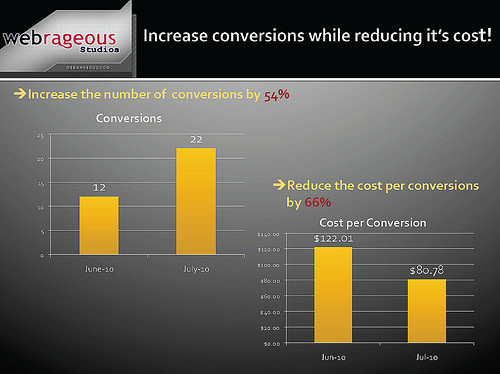 The reason why Webrageous Studios achieves such fantastic results for divorce lawyers through Google AdWords is because the company is solely made up of Google AdWords Certified PPC Account Managers. In addition to this, the company is also extremely well versed in various types of divorce attorney work.
For example, Webrageous Studios can help divorce attorneys who wish to generate success through online marketing by concentrating those PPC efforts on the following areas of divorce law:
general divorce
contested divorce
uncontested divorce
divorce mediation
child visitation
child custody
child support cases
It is this specific focus and this specific knowledge owned by those PPC Account Managers who work for Webrageous Studios that makes the company so effective in online marketing for divorce lawyers in general.
Therefore, if you are a divorce lawyer who is interested in improving your online marketing efforts and utilizing the powers of Pay Per Click Management, Webrageous Studios is only a few clicks away. The company is waiting to hear from you today.