Mass Tort Google Ads Management
Mass tort Google Ads management strategy is something all legal professionals should consider implementing in the digital age. Like any other consumer, your clients will often start their search on Google when searching for a specialist to assist with civil actions and lawsuits.
Google is also where most of your clients will go to collect information about their legal rights and opportunities before searching for a professional like you to assist in their case. Google is the most visited website in the world, with over 89.88 billion visits in 2021 alone. Google also holds around 92% of the search engine market share.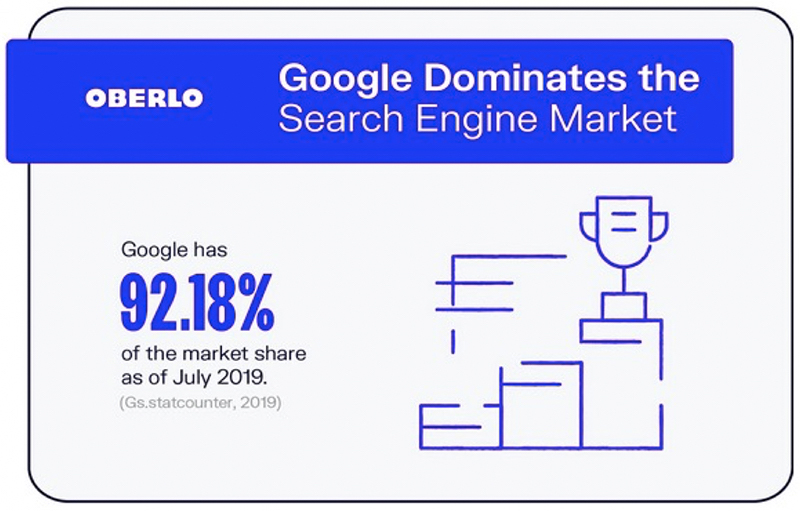 (source: oberlo.co.uk)
No wonder so many attorneys are turning to its advertising product to generate leads for their business.
When it comes to attracting attention for mass tort cases, the right Google Ads strategy can help your firm stand out from the crowd. Since 2014, Webrageous has helped attorneys from all backgrounds capture search engine opportunities, find clients, and improve conversions with mass tort Google ads management.
The Challenges of Mass Tort Google Adwords Management
Having a strong presence on Google can be extremely lucrative for your firm. When plaintiffs are unsure whether they have legal standing, they'll often search online to learn more about what kind of support is currently available for people in their situation. A mass tort PPC campaign or Adwords strategy can put you front and center in search, attracting local and national mass tort plaintiffs.
Unfortunately, designing your own Adwords campaign can be complex, particularly if you don't have much experience dealing with things like PPC. In a mass tort case, trending topics can quickly accelerate the price of PPC campaigns as people research well-known issues. If you're not careful with how you target your customers, you could end up spending a fortune on a strategy with no return on investment.
Additionally, you could end up creating a litigation ad that features misleading practices. Based on a report from the Institute for Legal Reform, mass tort ads often appear in news-type formats and feature medical professionals expressing support for the litigation, even though those professionals have expertise in an entirely different field. Other ads lack medical directives or evidence, which could cause consumers to take plaintiff ads as public health warnings. Some states have passed a law against using these practices, making it crucial to design campaigns that are as transparent as they are researched. That's why it's so important to have the right support.
Over the years, we've designed a huge range of mass tort pay-per-click management strategies for law firms, managing millions of dollars in budget. Our campaigns have helped build campaigns around birth control pills and devices, diabetes drugs, shoulder pain pumps, IVC filters, ADD drugs, blood thinners, and many others.
Webrageous uses a series of proven techniques to plan and implement a powerful and cost-effective campaign for your firm. We'll get ahead of the competition and pinpoint opportunities to make your firm more attractive than the competition.
Can't I Just Buy Mass Tort Leads?
Any attorney could buy leads, but they'd probably be clueless about where they came from. Several lead providers might buy plaintiff lists or repackage emails from other lists. However, by the time you get that list, it may have already been sold to another firm. As you don't know the source of the leads, there's a risk of getting involved in a Ponzi-type scheme.
Plus, the leads you purchase could be the result of bait-and-click fraud, making them useless for your business. Several companies leverage affiliates to generate leads, taking you further into the gray area. Good leads come from traditional sources like radio and TV, but you can do the same with PPC advertising at a fraction of a cost. Since mass tort leads are difficult to convert, you could end up with a negative ROI if you take the traditional route. A well-designed mass tort Google ads campaign can level the playing field between you and your closest competitors.
Nail Your Mass Tort Google Ads with Webrageous
For a mass Tort PPC management service to be effective, it needs to be well-planned and professionally implemented. When Webrageous handles these campaigns for law firms, the results speak for themselves. We don't just set up your ad campaigns; we assist you with the entire campaign lifecycle.
Years of experience has honed our skills in the competitive legal industry, giving us a behind-the-scenes look at the strategies that work best for generating cost-effective online attention. We know when to be aggressive for our clients, capturing as much client interest as possible. We're also confident in our ability to ease back when necessary, so clients don't feel bombarded or overwhelmed.
Over more than 15 years, we've developed the skills required to manage and cultivate mass tort PPC campaigns in a way that allows our clients to adapt to the reports of the national media and leverage opportunities as soon as they appear. We can work with you on getting the timing of your campaign perfect, so you attract the most clients and establish yourself as a thought leader in your space.
Throughout your campaign, we will also consult with you and provide suggestions on organizing your mass tort pay-per-click management budget. Plus, we'll advise how you can cultivate a good reputation for your firm and speak to the clients most likely to convert using carefully chosen keywords.
Any PPC campaign is a challenge to run successfully without the right experience. However, campaigns in the legal field can be even more challenging due to the sensitivity of issues. We do our best to help clients overcome these challenges and kickstart their mass tort Google Ads with confidence.
We know that attorneys spend tens of thousands of dollars on mass tort PPC but rarely get the desired results. Fortunately, we take a unique and proven approach that helps deliver a great ROI without the same degree of excessive spending. So don't wait, move quickly to contact us for your mass tort campaign.