Pharmaceutical and medical device liability is a lucrative space right now.  High-profile cases often result in massive settlements.  Attorneys who specialize in litigation involving drug manufacturers have no shortage of potential business.  As marketers we specialize in helping law firms with pharmaceutical liability and medical device liability clients excel.
Choose Experience
Webrageous has a strong track record with pharmaceutical liability lawyers.  We have managed a variety of campaigns including failed pain pumps, failed hip replacements, and a diabetes drug causing serious illness.  We have extensive experience with high-budget campaigns; many of our Google AdWords clients spend more than $100,000 per month.
Check out these results for several pharma campaigns.  Note that these results do not include call-focused campaigns, which reduce the cost per conversion by about 50%.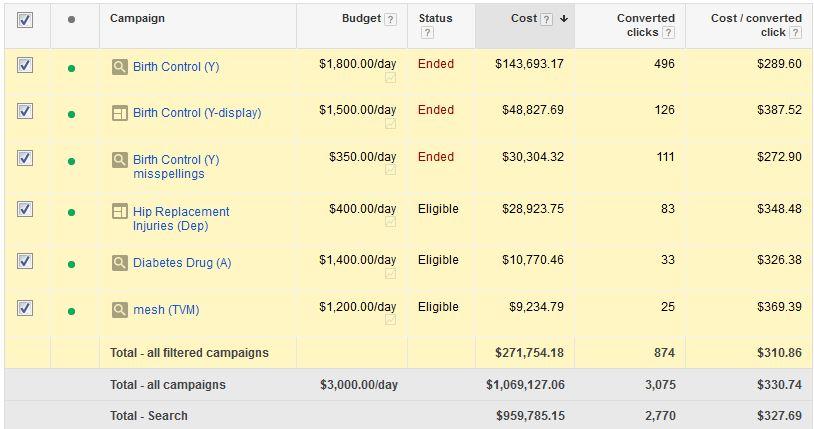 A Fast-Paced Market
Pharmaceutical liability campaigns develop very quickly.  Typically, numerous law firms will start to advertise within the first 2 weeks after a new case breaks.  To succeed, PPC campaigns must be incredibly dynamic and respond quickly to changes in the competitive landscape.  Furthermore, each faulty drug or device affects a small number of individuals.  If you want to reach this limited pool of clients, your AdWords campaigns must be highly targeted.  PPC managers for pharmaceutical liability campaigns must hone their campaigns to reach the right audience in the right location effectively.
A Highly Specific Audience
For any given lawsuit there is a limited number of individuals affected by the faulty drug or device. In order to reach this limited pool of clients, lawyers' AdWords campaigns must be highly targeted. PPC managers for pharmaceutical liability campaigns must be able to hone their campaigns to reach the right audience in the right location effectively. There is a very different in ROI for birth control injury lawsuit vs birth control injury settlement, for example.
Expensive, Competitive Keywords
In the legal industry, highly sought-after keywords can easily cost over $100 per click.  For many of our clients, simply competing for the high-priced keywords is not enough to ensure conversions.  Poorly managed campaigns are ineffective and extremely expensive.
Volatility in keywords combined with a highly specific audience make managing these PPC campaigns challenging even under the best of conditions.  Your PPC campaigns risk losing money and missing business opportunities without expert management.  Law firms should work with PPC experienced managers to get the most out of their advertising efforts.
Developing Successful Pharmaceutical Campaigns with Webrageous
Webrageous has been managing pharmaceutical liability campaigns for over 10 years.  We have developed strategies that work well within the nuances of legal industry PPC, ensuring that our clients can get the most business from their campaigns possible. From implementing keyword bidding strategies to optimize for budgets of all sizes to leveraging call-based CTAs to boost conversions, we help our clients stay competitive and visible.  Mobile AdWords campaigns are steadily growing in impact.  We have experience working in this space as well.  Many of our clients are finding new business opportunities through mobile advertising.
Our results speak for themselves — watch the video below to learn more about how we have optimized PPC campaigns for our clients, improving conversion rates and moving advertising spend to mobile, capturing previously untapped business potential:
Our Clients' Results Speak for Themselves
Our experience with managing PPC campaigns has made us experts in what works, even as the landscape of the advertising marketplace has evolved.  We have helped clients in every specialty of the legal industry see results from their AdWords campaigns.  Our team of PPC professionals has extensive experience managing a wide range of campaigns, garnering increased leads and better online exposure for many of our customers.  See what our clients have to say about working with Webrageous in the video below:
Contact Webrageous Today
Webrageous is devoted to developing high-yield PPC campaigns for all of our clients.  Let us review and analyze your existing Google AdWords campaigns and show you what we can do to give you a boost in results.  Our team of experienced PPC managers will develop a customized campaign strategy for your business to optimize your campaigns for your budget and get you the conversions you are looking for.  Contact us today at 855-945-1596 to learn more about our PPC management programs and to get on the road to advertising success.