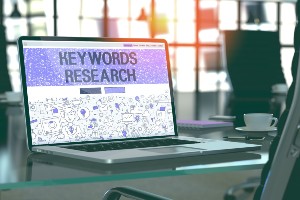 Keywords in both SEO and PPC are critical to the success of any digital marketing campaign. It's important to create a list with keywords that help you get the desired results. For example, using the top immigration keywords for SEO and PPC helps you target your ideal audience and make the most of your marketing investment.
You want a list of top immigration keywords that is realistic and achievable. This gives you a solid foundation from which to work and improve your SEO results. To do this, you'll need to conduct keyword research.
Once you have your list, you can consider search intent and structured data markup (more on both of those later).
What is Keyword Research?
Keyword research is the process of finding how potential customers search for what you offer. It starts by identifying relevant keywords and phrases, followed by an analysis of search volume and competitiveness to map the potential value of each keyword.
Once you've created a list, it's time to prioritize which ones to target.
What are the Top Immigration Keywords for SEO and PPC?
immigration lawyer near me
immigration attorney near me
best immigration lawyer near me
immigration law firm
best immigration lawyer
immigration lawyer cost
migration lawyer
top immigration lawyers
visa and citizenship lawyers
immigration law office
immigration lawyer consultation
citizenship lawyer near me
citizenship lawyer
daca lawyers
immigration law office near me
immigration lawyer for citizenship
daca lawyers near me
immigration firm
asylum lawyer
abogado de immigration
immigration lawyer for green card
deportation lawyer
green card lawyer
In many situations, building your list is the most time-consuming aspect of putting together a successful SEO or PPC plan. With this list of top immigration keywords for SEO and PPC, you can move on to the next step and launch your campaign all the faster.
Search Intent
Now that you have a list of keywords to target, it's time to consider search intent.
What is search intent?
Search intent is about understanding the mindset of the searcher.
How are they feeling?
What are they looking to do?
Where do they want to go?
What do they want, etc.?
This information helps you produce content that serves their audience in the best possible way, which will improve engagements and conversions in turn. It helps you prioritize keywords and create a better user experience.
Most people search the internet with very specific ideas in mind. They're only thinking about certain keywords. If you know that your audience searches based on one or two words over and over, then you should make sure those words are in your content.
Another reason knowing search intent is important is that it helps create a better overall user experience. When people come to your page, you want them to be able to easily navigate and read the content; you want them to be able to read your article and understand what they're seeing, and the best way to do that is by writing with a purpose.
Finally, knowing search intent creates structure and consistency in your content. You can assign certain keywords to different sections of your content, which organizes things.
Of course, no matter what you're writing about, having a clear idea of search intent can help you create content that is more relevant and interesting for your audience. These questions help guide your writing and improve the overall user experience.
Structured Data Markup
What is structured data markup?
Structured data markup is the process of adding metadata to your website and other content. This enables search engines to better understand what your site and its pages are about and how they're connected, which improves the overall SEO performance of each page.
Structured data markup should be used in the HTML source code of your webpages. Google recommends using HTML headings (h1-h6) for your page titles but does not require it.
If you don't have any headings, or if you use a different heading structure, you can use any HTML element.
Structured data markup helps search engines understand the information on your site and use that knowledge in their algorithms. It's an essential part of putting your keywords to work for you and your site.
If you'd like to know more about creating a keyword list of top immigration keywords for SEO and PPC for your content or you need help using those keywords, we can help. Contact us for more information.