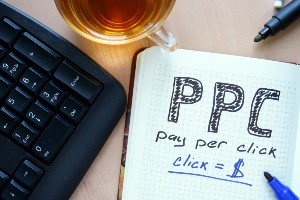 Why is it important that you understand the difference for your business?
PPC is one of the most powerful tools business owners have for advertising online. It's similar to SEO in that it utilizes search engines to attract potential clients to your business's website. But the similarities mostly end there.
If you're wondering "what is the difference between PPC and SEO?" and you'd like to know how both can help you grow your business, here's what you need to know.
What is PPC?
PPC is a precise targeting tool that allows you to create an advertisement that appears on a variety of sites related to your interest, services, or location.
Additionally, you can choose how much you are willing to spend per click and your advertisement will appear at the top of your Google search.
PPC can also be an accurate measure of what certain demographics are searching for. This provides insight into how they perceive a business. These statistics allow you to make changes based on demand and learn how to best reach and serve your target audience.
What's the Difference between PPC and SEO?
Business owners that are new to online marketing might be wondering what the difference is between PPC and SEO.
Do they need both?
Is PPC necessary if you're already investing in SEO?
The answer is yes.
One of the differences between PPC and SEO is that a lot of SEO can be done for free. PPC is better left to the experts if you want to increase your internet presence.
What is SEO?
Organic Search Engine Optimization (SEO) is a way to improve your site's ranking in search engines. This increases the amount of traffic that comes from people searching for your services online.
Business owners can use SEO techniques to improve their ranking. They can also work with SEO experts. But the actual process of improving your ranking organically requires no payment. You aren't buying ads or paying Google to get a better ranking.
What is Paid Search Marketing?
PPC, on the other hand, does require payment. You buy ads through Google AdWords. These ads are placed at the top of the search results or on different websites. It is also commonly referred to as paid placement.
PPC gives you control over which words your ad will show up for so you are only paying for the traffic you want your business to receive.
Is PPC more effective than SEO?
It varies. However, online marketing experts consider PPC the most effective way to quickly gain targeted traffic to your site.
SEO takes time to see results. Successful SEO campaigns give you a steady stream of qualified leads. It lets you build a relationship with your target audience over time.
PPC gives you instant results. You'll see an increase in traffic to you site immediately.
One isn't necessarily better than the other, but one might be better than the other when you have specific goals. Ideally, you'll use both PPC for short-term growth and SEO for ongoing, long-term growth.
Should You Work with a PPC Expert?
By working with an expert, you'll gain access to PPC's precise targeting options. This allows you to create advertisements that appear on sites relevant to your industry and location.
You can also choose how much you are willing to pay per click and your advertising will appear at the top of Google search. This results in a narrower target audience who is actively looking for your services. You won't have to pay for a bunch of clicks from people who are just curious or who aren't actively looking for your type of business.
To learn more about the difference between PPC and SEO and understand how each works for businesses, contact us today! We can explain everything you need to know about this advertising method and help you get started.