How To Choose A Google AdWords Account Manager
Having a Google AdWords Manager manage your campaign can be a very cost-effective way of increasing your company's profitability in terms of online advertising.
But when it comes to choosing a Google AdWords Manager, you will find that there are many companies who offer Management services.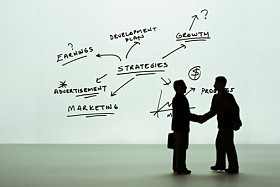 So just how do you choose a company that is going to ensure your Campaigns are successful while meeting your specific business needs?
By following these Five Steps, you will be on the way to having a Google AdWords Campaign that achieves the results that your business is after.
1. Look for qualifications.
Make sure that the company has managers that are qualified, at least in Google AdWords if not in other search engines as well. Google AdWords has a certification program that also includes advanced specialty fields. So find out what the Google AdWords Manager that you are thinking of enlisting is qualified in.
Find out what Webrageous Studios' managers are certified in
here
by clicking on the Google AdWords badge.
It is all well and good to make promises, but to be sure that you will be achieving results in your Google AdWords Campaign, ask the AdWords Management company to provide case studies of previous successful campaigns or client reference lists.
If they are unable to provide such evidence then you have no reason to trust your business with them. Just visit our results page in the navigation to see our results and links to case studies.
3. Find out who your Google AdWords Manager will be.
You don't want to be thrown around between different Account Managers. Make sure that you have a qualified Google AdWords Manager who will be the only person handling your account.
An account manager should be dedicated to your particular account and be aware of your particular business needs. That way you will have someone who has detailed knowledge of your business and who will be accountable.
4. Request a plan of your campaign.
Before giving your business to a particular AdWords Management company, ask your account manager to explain how they are going to manage your account. You want to ensure that your business has a Google AdWords Campaign that is specifically created to meet your business needs. A professional AdWords Management company should offer this.
5. Find out what other services they offer.
Once you have chosen a Google AdWords Manager, you will often find that you will be putting a lot of trust in that person and might not want to go elsewhere for your online advertising. So find out what other services they offer for when your business expands or your business needs change.
Webrageous Studios can help manage your campaigns across Google, Yahoo and Bing. The company also has bilingual English/Spanish employees for if you decide to run any campaigns in Spanish.
When managed professionally, Google AdWords will prove to be a cost-effective form of advertising that increases your client base and your company's Return on Investment. So make sure you choose the right Google AdWords Manager to get your Google AdWords Campaign working for you today.