Retargeting and display campaigns in general can be highly effective methods for filling your funnel and finding qualified customers. According to one study, retargeting campaigns can boost conversion rates by as much as 147%. However, display and retargeting campaigns do have the potential to backfire if you aren't careful. At best, retargeting campaigns can have the highest ROI of any of your paid search campaigns, and at worst, poorly placed ads can offend your audience and be a PR nightmare. Here are a few steps you can take to ensure that your Display campaigns stay focused on the right audience for your business. One of the best things you can do to prevent ads from showing up next to a newspaper article about the next massacre you might want to add the negative keywords for Display.

One of the biggest things you want to prevent is your ad from showing up in places like this: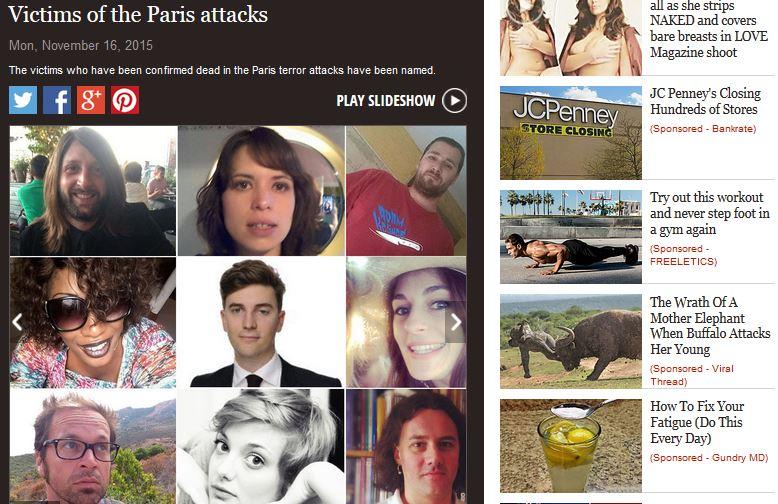 or even worse….showing up here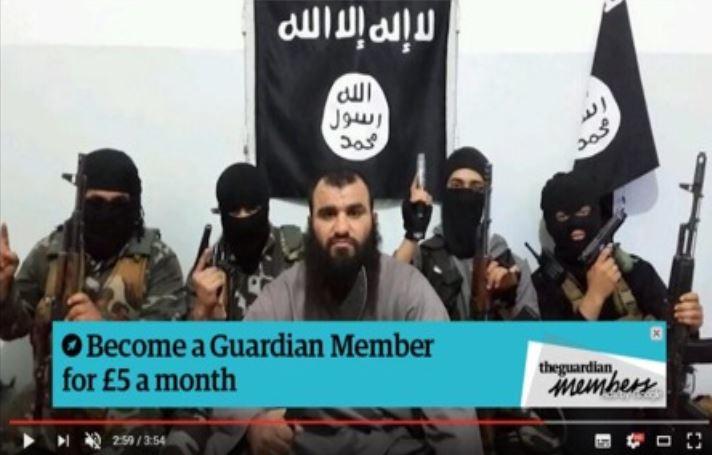 any questions? I didn't think so!
Develop a Strong Negative Keyword List
You need to make sure that you minimize the instances where ads will be served in inappropriate circumstances. AdWords lets users compile negative keyword lists, which inform the AdWords algorithm about which search terms you do not want to have your ads served for. Keep in mind that including too many negative keywords can limit the reach of your ads and prevent people from seeing them, so building your negative keyword list should be done carefully.
We've compiled a list of common negative keywords below that every advertiser should be sure to add to their negative keywords list for retargeting/display campaigns.We can't guarantee it will prevent your ad from showing in the every inappropriate circumstance but we can promise that it will help.

Our Checklist of Negative Keywords for Retargeting/Display Campaigns
death
obituary
terrorism
suicide
death
earthquake
tsunami
homicide
rape
war
bomb
murder
abuse
abused
accident
arrest
arrested
arson
assault
attack
avalanche
bomber
bombing
brutal
burglary
cancer
crash
crime
criminal
dead
deadly
die
dies
disease
drowned
drowning
drug
drugs
drunk
electrocution
extortion
fire
flood
floods
fraud
hurricane
ISIS
ISIL
Islamic State
kidnapped
kill
killed
killing
kills
massacre
manslaughter
molest
molestation
molester
molesting
murderer
pedophile
pedophilia
pimp
pimps
porn
pornography
possession
predator
predators
prostitute
prostitution
robbery
sex
shooting
shoplift
shoplifting
shot
solicitation
stroke
terrorist
theft
tornado
trafficking
tragedy
violence
violent
wreck
gun
weapon
Negative Keywords for Search Campaigns
And while we're on the topic of negative keywords here is a negative keyword list you can use for your search campaigns also. It's a good idea to review this and make sure this negative keyword list is appropriate for your circumstances.
About

Affiliate

Affiliates

Analysis

Articles

Associates

Bargain

Budget

Career

Careers

Cheap

Cheaper

Cheapest

Class

Classes

Close outs

Closeouts

Colleges

Community

Complaint

Complaints

Consultants

Consulting

Course

Courses

Create

Define

Defined

Definition

Definitions

Developer

Developers

Diagram

DIY

Do it yourself

Download

Education

Employment

Error

Essay

Example

Examples

Fake

Free

Hack

Hacks

Hand made

Hire

Hiring

History

Hobby

How to

Inexpensive

Info

Information

Interns

Internship

Internships

Interview

Jobs

Journal

Journals

Laws

Lecture

Lectures

Libraries

Liquidation

Low budget

Low cost

Magazine

Magazines

Metrics

Naked

News

Newsletter

Obituary

Photo

Photograph

Photographs

Photo

Picture

Pictures

Porn

Preventing

Problem

Problems

Profession

Publication

Quotation

Quotations

Quotes

Recruiter

Recruiting

Regulations

Repairs

Replica

Research

Researches

Researching

Resume

Resumes

Review

Reviews

Rules

Safety

Salaries

Salary

Sample

Samples

School

Schools

Sex

Shortcut

Specifications

Specs

Stats

Studies

Success story

Template

Tip

Tips

Training

Tutorial

Tutorials

Universities

University

Used

Value

Video

What are

What is

White paper

White papers
Utilize Site Category Exclusions on Display Network Ads
Sometimes going keyword by keyword isn't enough to ensure that your ads are served appropriately. To make sure that your ads are only shown to the right audience, you can use site category exclusions to eliminate categories of websites that you are sure you don't want your ads to be associated with on the Google Display Network. This helpful feature lets you turn your ads off for broader categories of websites. This could include those with content on sensitive topics, such as death and tragedies, or with content that has been designated for mature audiences only. To adjust your site category exclusion settings, go to the "Display Network" tab of your AdWords dashboard and select "+Targeting." this is a good place to review a variety of settings for your display campaign. Scroll down past this first image and in the second image you will see some really great settings you may not be aware of: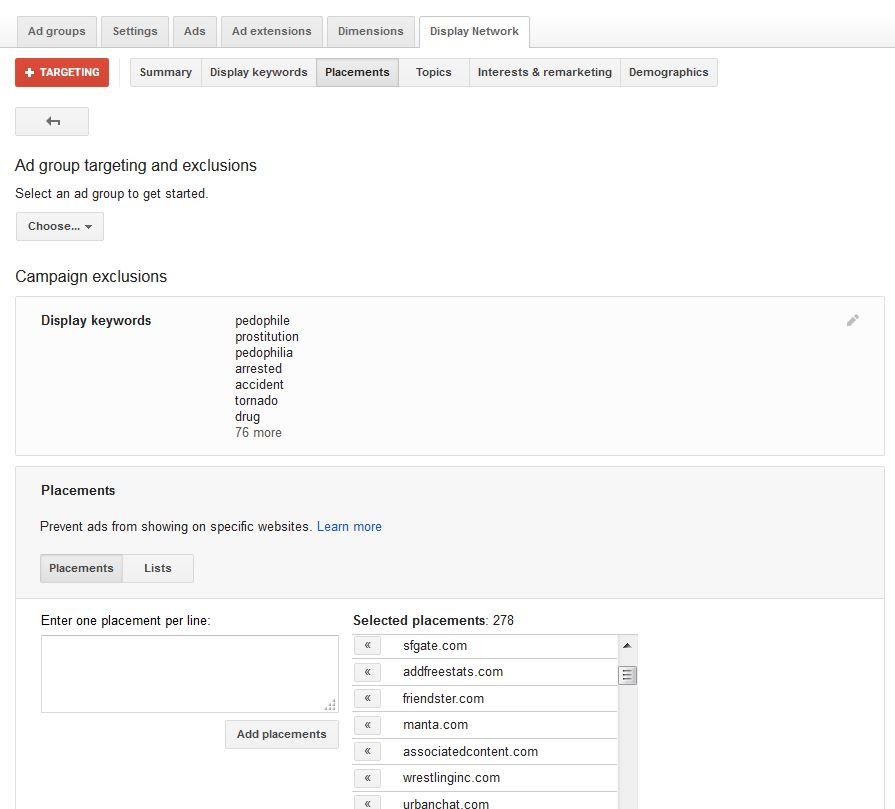 okay great so now you know where to get started to find where you can exclude certain categories of sites. if you scroll down even further you will see site category options.
if you don't see site category options you will need to add it. Here is how: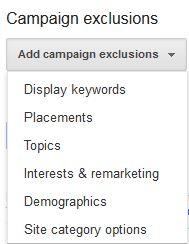 then here is what should appear under site category options and the options checked in red are the ones that we recommend turning off: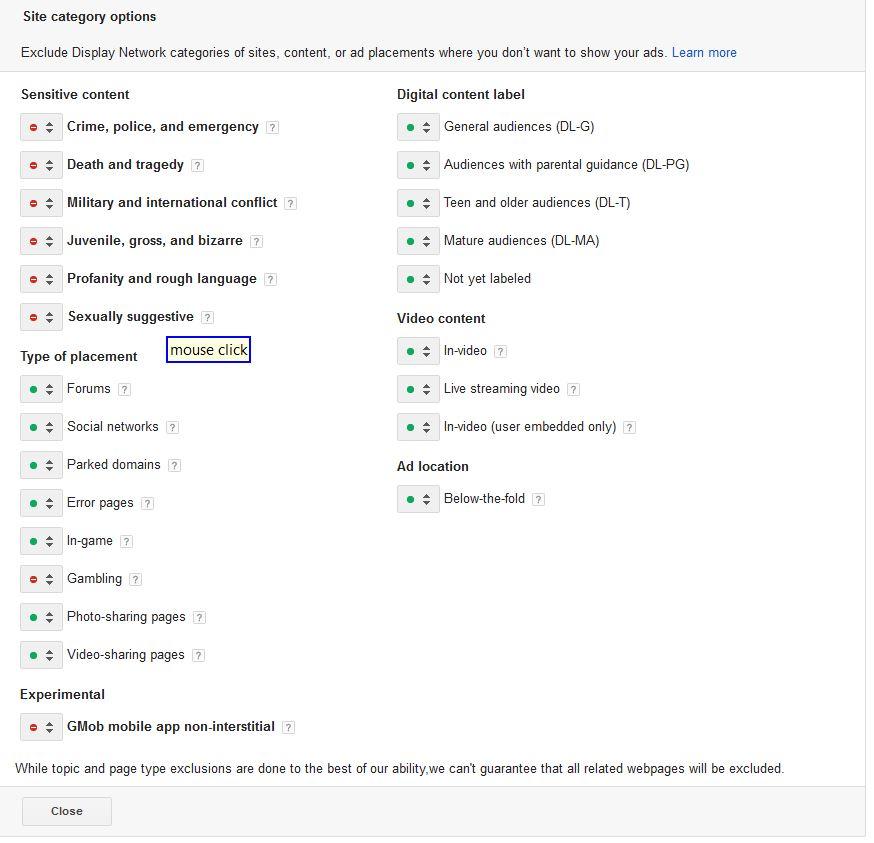 you'll notice I've taken the time to turn off some of the worst offenders. If you take advantage of all of these tactics outlined above you will be in much better shape to avoid advertising in a place that could bring you some very unwanted publicity! while we can't guarantee you won't show up advertising somewhere you don't want to I think this will prevent showing up in the worst placements about 99% plus of the time.
Identify Why Campaigns Aren't Converting
There are other things you can do to improve a nonperforming retargeting campaign. Retargeting works best when it can identify and anticipate consumer browsing behavior, so it's important to understand what the ideal journey to conversion will look like. You must also be able to anticipate any poor matches that you are likely to encounter as well. There are a variety of reasons that your ads might not be a good fit for the audience they reach, including:
Bad Product-Audience Fit

– The audience you're reaching might not be a perfect fit for your services. This is often the case where keywords can mean multiple things. Someone who searches for picture frames then gets hit with ads for eyeglass frames will waste your advertising resources and might annoy your audience.

Aspirational Searches

– If your audience isn't at the right point in their purchasing journey to make a commitment, your retargeting dollars may be wasted. They may be doing research and looking for information, without any intention to make a purchase yet. They may be looking for employment or education — for example, someone searching for "patent law school" would not actually be interested in finding a patent lawyer to represent them.

Inappropriate placement

– Sometimes your ad placement isn't a just poor fit — it's offense. Serving ads for affordable vacation home rentals side-by-side with articles about a recent natural disaster in the same area, for instance, can trigger negative feelings in your audience and do damage to your brand beyond simple annoyance.
Unfortunately, the AdWords algorithm does not necessarily understand these contextual clues that what may seem like a good candidate for retargeting may actually be a poor fit for your business. Once you've identified potential reasons that someone would NOT want to see your ads, you can take action to avoid serving them retargeted ads.
Understand Context and Define Industry-Specific Negative Keywords
Context is incredibly important for successful retargeting campaigns, and understanding all of the potential scenarios in which someone might be served your ads is key. In addition to these general negative keywords, you may have to find industry-specific negative keywords. For some industries, pinpointing keywords that have potentially problematic use cases is critical to retargeting success. For instance, it's important for airlines to avoid serving retargeting ads on articles about recent plane crashes, so keywords like "plane crash" should be added to your negative keywords list. Building a comprehensive list of negative keywords that are specific to your industry can be challenging. If you're working with a PPC manager or consultant who has experience in your industry, they may be able to draw on past experiences to help you build out a list of industry-specific negative keywords more quickly and efficiently.
Refine Display & Retargeting Campaigns with Webrageous
Webrageous' team of PPC experts has experience managing the challenges of running successful retargeting campaigns. We can bring our expertise and experience to your campaigns and help you ensure that your campaigns won't suffer from poor fit or inappropriate placements. Contact us today to learn more about our no-risk 60-day trial for PPC management, and we can start transforming your retargeting campaigns today.
Image Source: stevepb via Pixabay