Webrageous has been managing Google AdWords campaigns since 2004. If we were good at keyword research would be out of business by now! Here is a list of keywords we highly recommend that you use with your AdWords account, or to optimize your site for SEO. And if you're looking to fall in love with a great PPC management company who can handle this task and all other tasks related to paid search please call us at 855-945-1596.
find a woman
find a man
Online dating
dating over 40
dating over 50
senior dating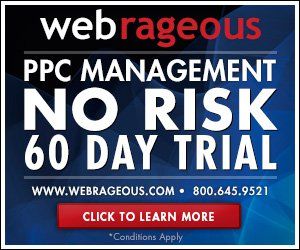 gay dating
Christian dating
top 10 dating
flirting online
find someone to marry
most popular dating website
Jewish dating
singles website
free dating website
dating services
dating chat room
location dating
dating app
meet singles
meet women
meet men
find women
find men
find singles
find a girlfriend
find a boyfriend
lesbian dating
lesbian singles
gay singles
how to meet women
how to meet men
dating after divorce
mobile dating
alternative dating
single parent dating
online hookup
hookup website
local personals
personals website
dating for free
meet people for free
matchmaker website
online personals
Singles chat
international dating
matchmaker
dating website
new dating website
best dating website
Internet dating site
mature dating website
If your spending over $5000 per month on AdWords we may be able to offer a risk-free trial. Please call us at 855-945-1596 for more information.