Get More Clients via Pay Per Click Advertising
The most successful way of utilizing your advertising budget is to create an AdWords Advertising Campaign with the help of Webrageous Studios and we will be happy to prove why in this article.
So… why is it that any company can be sure to get more clients and sell more products via Google AdWords?
1. The Mother Ship of Search Engines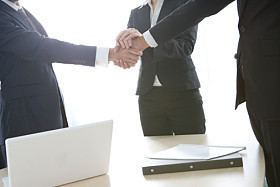 Google is the largest search engine in the world. If you want to increase your client base, you should use Pay Per Click Advertising to reach the largest number of people possible. Getting more clients via Google AdWords is by far the most effective form of online advertising and Webrageous works with a number of Happy Pay Per Click Advertising Clients who have already testified to this fact.
2. Pay Per Click Monitoring Tools
Pay Per Click Advertising gets more clients for online advertisers than any other form of advertising because of the many monitoring and optimization tools that are available for advertisers to use.
If your campaigns are not working for whatever reason, the issue can be analyzed and a solution can be reached. More clients will be knocking down your doors without delay and you will realize that your Budget is money very well spent.
3. AdWords Experts and AdWords Support
Google AdWords Experts, Google AdWords Support and the Google AdWords Business Channel make Pay Per Click Advertising easy. Getting more clients when you have such a variety of sources of support and information at your disposal is easy.
The Google AdWords Support Team are there to deal with all of your online advertising queries, which means that any issue, large or small, is dealt with immediately. You will never feel alone with Advertising because of their support network and you will also see healthier ROIs on your campaigns. Getting more clients is easy when you know how to optimize because well optimized accounts cost advertisers less money to run.
The Google AdWords Business Channel is also another fantastic resource for online advertisers to use and this is why so many online advertisers increase their client base and sell more products instantly after beginning to market via Pay Per Click Advertising.
4. Google Remarketing
Get more clients by utilizing the Google AdWords Remarketing strategy too. The best thing that Google Remarketing does is it directly targets customers/clients who have already shown an interest in your site/products/services. It builds on this relationship and is highly successful at getting more clients for advertisers who are using the Internet to market their businesses.
Google AdWords is forever developing fantastic ways of highly optimizing your Pay Per Click Advertising Campaigns and ways of targeting specific customer groups. You are guaranteed to find a way of getting more clients if you utilize Google AdWords and all its features, such as Google Remarketing, to the full.
For more information on getting more clients via Google AdWords Pay Per Click Advertising, contact the experts at Webrageous Studios. We will be more than happy to help you with your online advertising needs.