Turning Pay Per Click Failures into Success
Are you wanting to get off that dead end road leading to Pay Per Click Failure? Don't worry. You're not alone.
Webrageous Studios can help you get off that road to failure and onto the highway towards Pay Per Click Success.
You've already taken the first step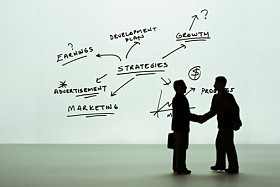 If you've chosen to advertise with Pay Per Click then you're already on the right track. Pay Per Click Advertising is absolutely the best way to increase your company's ROI and increase it significantly.
Provided you research exactly what it is you're doing with your campaigns and seek help if it is too much, it is very unlikely that you will become a Pay Per Click Failure. So well done, you've made the right decision!
Go with the experts in Pay Per Click
When it comes to turning around your campaigns, the best way to go is with an expert in pay per click management.
If you're finding that your advertisements just aren't converting for you or you are spending more on Pay Per Click Advertising than you would like, don't worry. It doesn't mean that you're a Pay Per Click Failure.
Pay Per Click Advertising is not easy. If it were so simple, there would be no need for competition as everyone would be exceeding their ROI. That is where the experts come in.
Webrageous is experienced in Pay Per Click Management and has
achieved outstanding results
. We know how to turn your Pay Per Click Failures into successes.
Here are a few ways that we are able to turn your Pay Per Click Failures into a success:
Optimize your campaigns, keywords and advertisement text
This basic service should be provided by any provider of Pay Per Click Management. Webrageous Studios goes one step further. We are able to generate keywords for you and create advertisement text if what you have currently has proven to be a Pay Per Click Failure.
We are also experts in website development, with more than six years' experience. If your landing page is a Pay Per Click Failure and isn't converting, we can help improve your landing page to stop potential clients from leaving after their first visit.
We constantly monitor your Pay Per Click campaigns
We are always running reports and analysis of all of your campaigns to make sure they don't become Pay Per Click Failures.
We are very open about the work we do and so will continually provide you with reports and data of what it is we are doing to stop your campaigns from meeting a hurdle and becoming Pay Per Click Failures.
The reports we provide are easy to understand and helpful so you can use this data when working out your advertising goals and strategies now and in the future. We want you to become a Pay Per Click Success and so do all we can to help.
We make sure we comply with the regulations
It is very important to follow the rules. One of the easiest ways to become a Pay Per Click Failure is to fail to adhere to regulations. Whether you are looking at advertising regulations according to your industry, such as law, or the rules set out by your pay per click network provider, it is incredibly important to stick to them.
We will help advise of what rules you need to apply to your campaigns and we'll make sure your campaigns aren't crossing the line.
We'll develop methods to improve your Pay Per Click results
If you've found your campaigns have turned into Pay Per Click Failures, you'll be wanting to know what you can do to improve.
We can do that for you by listing ideas for improvement. That way you will have a whole lot of ideas to go on and to choose depending on your goals.
Turn your Pay Per Click Failures into successes by employing a Pay Per Click Manager who can provide you with ideas on how to improve your situation.
There is no better way to go than Webrageous Studios if you are looking to turn a Pay Per Click Failure into a success.