Find Google AdWords Qualified Managers at Webrageous
At pay per click management company
Webrageous
we understand what a fantastic resource Google AdWords is for our clients. For this reason we ensure that all of our pay per click managers are fully qualified in Google AdWords.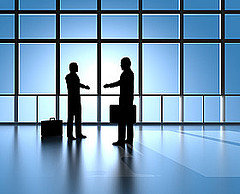 While it is quite a lengthy process, we believe in making sure all of our PPC account managers pass the Google AdWords accreditation exam. In order to become Google AdWords Qualified exam, our pay per click managers must be well trained in all of the basic and advanced tools and features used to manage a pay per click advertising campaign through Google AdWords.
There is no denying that Google AdWords is one of the most complicated pay per click programs out there. Succeeding with Google AdWords requires dedication and commitment. Becoming Google AdWords qualified is just the first part of that. Google AdWords is constantly updating its features and growing and so anyone who is serious about providing Google AdWords management must keep up to speed with those changes.
That is why Webrageous makes sure that all of our pay per click managers who are qualified in Google AdWords keep up-to-date with these developments. We are determined to provide the best possible results for our clients' Google AdWords campaigns so keeping on top of any movements within the industry is very important to us.
This attitude makes pay per click management at Webrageous very effective and is one of the reasons why we have had so much success with our clients' campaigns, as they happily attest in these
client testimonials
.
The pay per click managers at Webrageous keep one step ahead of the rest by making sure they are trained in all aspects of Google AdWords, not just the basics. The Google AdWords accreditation program involves one basic exam and three advanced exams, all of which last between two and three hours. To become accredited you only need one basic and one advanced unit. However, Webrageous makes sure it has pay per click managers among its team who are trained in all the advanced elements too. This is a tough undergoing for our PPC managers but is what we require to be the best.
What's more, the Google AdWords exams must be taken every year in order to stay AdWords qualified. So our pay per click account managers must go through this process once a year. This is a great way of staying on top of any developments. However, as dedicated members of Google AdWords we are constantly reading about new tools and features and are often sent invitations by Google to test out its new programs at the BETA testing stage.
At Webrageous, we understand the importance of keeping all of our PPC managers fully
Google AdWords qualified
. This is part of the responsibility that we hold as the carriers of the Google AdWords Qualified Company badge which we display on our website. This is an important part of being Google AdWords qualified and is crucial in maintaining a great relationship between Google and these companies. We have no intention of damaging that relationship and hope other Google AdWords qualified companies do the same.
This is why we believe that it is important if an advertiser is looking at advertising on Google AdWords to always seek a Google AdWords qualified management company. There is no benefit as far as we can see in outsourcing the management of your Google AdWords campaigns to a company whose PPC managers are not Google AdWords qualified. Google AdWords qualified companies work hard to keep their standing and this is a quality that cannot be overlooked.
In terms of online superpowers, Google is incredibly dominant and a very important resource worldwide in this day and age. Every day Google continues to grow. Thousands of Google experts work tirelessly to provide new features, programs and tools to help out their loyal user base. Google AdWords is continually being improved to help out advertisers and account managers in order to better run their pay per click advertising campaigns.
For this reason you cannot overlook hiring a Google Adwords qualified company. Keeping up-to-date with Google is a huge undertaking. However, this is what we do at Webrageous. With our 10 years' managing Google AdWords accounts – which is nearly as long as Google AdWords has been around – we are an expert in Google AdWords.
Our Google Adwords qualified PPC account managers have in-depth awareness of everything Google AdWords related. From the most basic features of Google AdWords to the most complex, we know it all. You only have to
give us a call
and ask us about a feature of your Google AdWords campaign to see just how far our expertise goes.
And if we don't have the answer to something straight away we can always call our Google representative who works directly with us for any questions we have about our clients' campaigns. This is just another benefit of being Google AdWords qualified, maintaining a long relationship with Google, and continuing to provide excellent services of our clients, in other words, a pleasurable experience for our advertiser clients and the searchers who are seeking their product or service.
Webrageous' reputation in achieving consistent results for our clients and keeping updated with our Google Adwords qualifications has led us to be included in a special Google AdWords program reserved for the best pay per click management companies out there. We are part of the
Google Grants Program
. As part of this program we help out non-profit organizations to run their Google AdWords advertising campaigns.
This experience has allowed us to broaden the abilities of our PPC managers. Most of our time had previously been spent promoting commercial businesses. The skills in handling a Google AdWords account for a non-profit organization are very different and only add to our Google AdWords qualifications.
We have even worked with these organizations to help them apply for an increase in their Google Grant from US$10,000 to US$40,000. We have been able to provide the backing to these groups and lead their campaign for additional funding as we have the know-how in Google AdWords. This expertise comes about because Webrageous is Google AdWords qualified.
There really is no other way to provide the support, expertise and advice required in order to properly manage a Google AdWords account. We cannot stress enough the importance of hiring a Google AdWords qualified company if you are serious about achieving Google AdWords success.
The way we at Webrageous look at it is if you are paying for a service then you want the best service possible. If you are going to outsource PPC management in order to run your Google AdWords campaigns then you should at the very least hire someone who is qualified in Google AdWords.
As a pay per click management expert and a Google AdWords qualified company, Webrageous provides the best chance for our clients to succeed in PPC through Google AdWords. So when you are seeking a company to manage your Google AdWords account, seek the Google AdWords qualified PPC account managers at Webrageous.
Give us a call today to find out exactly how our Google AdWords qualified experts can boost your company's advertising returns and see extraordinary results in your pay per click advertising campaigns through Google AdWords. We can provide you with a free quote so do not hesitate to
get in contact with us
. One of our expert qualified PPC managers is looking forward to help you with Google AdWords.