Cool the Rush on Pay Per Click Advertising
Just like a tiny spark on a dried leaf in the forest can turn into a wildfire, a small error on a pay per click advertising campaign can turn into a disaster.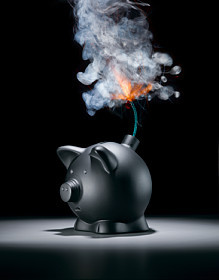 Unfortunately, like any advertising method that is very popular, it is not always easily available to everyone. And when there are so many pay per click advertisers to choose from, the providers can afford to be picky.
So that the pay per click advertising service is of the highest quality to customers, there are a number of things that could result in a ban. This might include inappropriate content, poor links, or re-uploading suspended accounts.
That is why you want the experts in pay per click advertising looking after your campaigns. Pay per click advertising management firm Webrageous promises that they will pick up on even the tiniest of errors and get the advertisements back to their top positions.
Luckily, with Webrageous' help, the chance of any errors appearing is minimal. Because we are so experienced in pay per click advertising and because we spend all day monitoring our clients' campaigns, there is only a microscopic chance that something will go wrong.
Here is a brief look at how Webrageous can help your pay per click advertising campaign achieve success without getting burned:
Webrageous is always one step ahead of the rest
Webrageous looks for fires before they've even started so no fire control is needed. But if a fire does appear then we can put it out before it spreads or before it is even noticed by the pay per click providers. This is a crucial part of pay per click management and we ensure that it will be kept under our control.
Webrageous has been helping turn unknown companies into some of the best online advertising sellers through pay per click advertising. We are able to help our clients with pay per click advertising on Google, Yahoo and Bing.
Webrageous offers a range of special services
When it comes to pay per click advertising we really are the experts. Because pay per click is our expertise we have developed a range of services over the years that ensure even better management and tools for our clients.
Webrageous has a clean record with the
Better Business Bureau (BBB)
. Our pay per click advertising managers are all qualified in Google AdWords – both the basic and advanced components. Webrageous is also a member of the Microsoft adExcellence program.
Webrageous also offers A/B testing of advertisement text and landing pages on all our pay per click advertising clients' campaigns in order to optimize quality scores. With a background in web design, Webrageous is also able to help optimize landing pages and can create and design websites for its pay per click advertising clients. The importance of landing page and website optimization is often overlooked by other pay per click advertising firms but we understand just how important it is to your campaign.
We also have pay per click advertising consultants who are bilingual in English and Spanish. So if you are thinking of running your pay per click advertising campaigns in Spanish then we can help with that too.
Webrageous has experience to boot
Webrageous' pay per click advertising managers are some of the
best in the business
. And best of all they are located all over the world. So whatever your schedule or the schedule of your pay per click advertising campaign, we have a pay per click advertising manager who can meet your needs.
Our pay per click advertising managers are experts in fraud management and have the ability to dispute any fraudulent activity that might appear on your pay per click advertising campaigns across Google, Yahoo or Bing.
High customer acquisition costs and online click fraud are real possibilities with pay per click advertising so it is important to have your campaigns managed by the experts. By outsourcing management of pay per click advertising to Webrageous, you will be start to see an increase in the ROI on your campaigns and decreases on your average cost per click.
And the fire is out!
Best of all we can provide all this and keep within your company's advertising budget. Pay per click advertising doesn't have to be expensive and Webrageous ensures that it provides all the services that we offer and achieves success while also sticking to your budget.
Webrageous also provides the best optimization techniques so your pay per click advertising campaigns work out even cheaper for you. We are able to optimize your keywords, advertisement text and landing pages and focus on campaign structure, geographical targeting and conversion statistics.
Webrageous' reputation in pay per click advertising has rewarded us with various honors and accolades. In 2008, Webrageous was named among the Top 10 Best Pay Per Click Management Firms in the world by TopSEOs.
So if you want a pay per click management company who provides you all the services, keeps a hawk's eye on your campaigns and sticks to your budget, choose Webrageous. We can make sure we drive traffic by qualified customers to your sites from the top search engines.
For more information on the services that pay per click management firm Webrageous provides
contact us today
. We can also provide you with a free quote.