Pay Per Click Management for Family Law Firms
Webrageous manages paid search for numerous family law firms across the country. You can see examples of the results we have achieved for several  family law clients in the screenshots  below. We're so confident in our track record we can even offer you a  60 day risk-free trial for PPC management.
Eric Willie is a client who contracted Webrageous years ago to manage his family law firm's online marketing. Watch the video testimonial below to hear his first hand account of the results this divorce attorney has seen with our company.
What makes Webrageous so effective in Divorce Law marketing & Google AdWords PPC Management?
Personalized attention! Many PPC management companies have 1 account manager for 80 accounts. It's hard to make a difference when you only have 30 minutes or less per week to create and optimize an account. As of May 2017 our account managers typically manage 5 to 20 accounts each.
We have been managing paid search for family law firms for 10 years.
If you also have other practice areas  you should take a look at our pages  geared towards  bankruptcy attorneys  and personal injury attorneys.  Often we can generate leads for personal injury attorneys between $140 and $170 per lead and for bankruptcy  at around $50 per lead.
Where's the proof?
Webrageous Studios manages the PPC campaigns of a number of US Divorce Lawyers.
We have an A+ Better Business Bureau rating
Watch all of our testimonials videos-there are two family attorneys in our video reel
Watch our results video
Examples of PPC Success for Webrageous Family Law Advertisers
Here are some reports that detailed the CPL or cost per lead for 4 of our family law clients. On our family law results page you can read more about each of these case studies.
Client A
Client B


Client C


Client D

Family Law Call Tracking
It's important whenever you set up a marketing campaign to be able to track its success. With family law you receive about three times as many calls as contact form submissions when a campaign is set up properly. For that reason it is essential to track calls. Below is a summary of the calls one of our clients received in the spring of 2017 during one week when they spent $500 on family law ads with Google AdWords. This is our most successful client in terms of cost per lead for family law. Most clients have a cost per conversion about 50% higher than this particular client.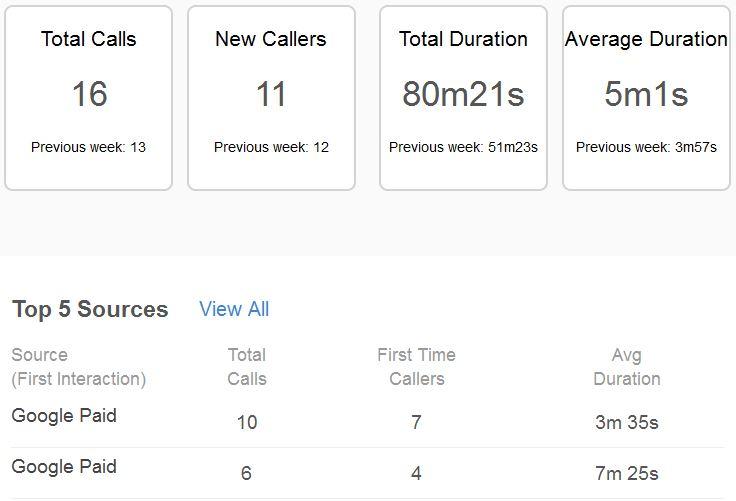 How to Advertise Divorce Law Services with Webrageous
If you like what you have seen so far then contact us today. Be sure to check out our 60 day risk-free trial.
See How We Have Helped Other Law Firms
This results video highlights results from several law firms we have helped as well as some clients outside of legal.

Here are several more video testimonials you may want to watch. 3 of the testimonials are by attorney clients:
---