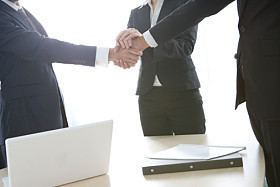 There are many PPC Management Companies and they all offer standard pay per click advertising services that any PPC client can expect to receive. These services include the general managing of an account, the development of keywords, the writing of advertisement text and the analysis of each campaign through tools such as the Google Adwords Editor. However, if looking for a PPC Management Company that can offer more pay per click advertising services, then Webrageous Studios is a good place to begin.
On first impressions, it may seem that there is very little difference between the pay per click advertising services offered by the many difference PPC Management Companies, but there are. For a start, not all PPC Management Companies are AdWords Qualified. This means that not every PPC Management Company employs PPC Account Managers who have all successfully passed the Google AdWords Accreditation Exam in order to become a specialist in the field of PPC on the Google network. If your advertising campaign is being run by a company or an individual who is not Google AdWords Qualified, the likelihood is that your PPC campaign is not doing as well as it should do. Nor is it a campaign which will continue to do well or even improve on the basics of PPC such as conversion rates, for example.
Webrageous Studios, however, is Google AdWords Certified and it may well be useful to take the time to read the detailed article on Google AdWords Accreditation on the company's website.
However, Webrageous Studios is able to go one step further than this. Webrageous Studios as a valued member of the Google AdWords Community, owing to the amount of work it does, receives a lot of special invites from Google. The result is that the following list in this blog post includes the extra pay per click services that Webrageous Studios is able to offer its PPC advertising clients. These services go above and beyond that of the normal pay per click advertising services of many other companies and make Webrageous Studios one of the best PPC Management Companies working in the field at present.
Google AdWords Phone Support Service
Google AdWords trained PPC Managers
Access to Google tools and features ahead of schedule
AdWords Consulting Services
Google Grants PPC management program for NGOs in need of online advertising help and support
If you want to read about these extra pay per click advertising services then follow this link to the detailed article on the subject. Also, please do get in contact with any direct questions you may have by using the Contact Tab in the top right hand corner of this website.