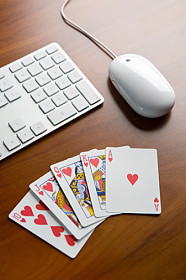 Google Paid Advertising Management is hard work. It is a full time job. "Successful" Google Paid Advertising Management is even more hard work and it takes a team of specialized, well-trained individuals, like those who work for Webrageous Studios, to meet the demands of such a difficult task on a regular and consistent basis. Webrageous Studios, unlike some PPC Management Companies, only employs PPC Account Managers who are Google AdWords Certified. Therefore, the possibility of achieving success in the Google Paid Advertising Management of any given campaign that it manages is almost guaranteed every single time.
Have you attempted to write effective advertising text for your Google Paid Advertising campaign and failed? Are some of your keywords destroying your Google AdWords Quality Score without you being able to figure out why? Do you even know what a Quality Score is and why it is an important part of Google Paid Advertising Management? Is your current PPC campaign being managed by a Google AdWords Certified Company? If not, why not? If the PPC Management Company in charge of your current PPC advertising campaign is not Google AdWords Certified, how can you be sure that they are more qualified than you to be running your account? Are you paying for Google Paid Advertising Management services that are, therefore, an entire waste of your money? Maybe you didn't even know that it was important for a Google Paid Advertising Management Company to be Google AdWords Certified? If not, take the time to read the full length article on the subject of Google AdWords Certified Companies on the Webrageous Studios' website for more information that you may find useful.
Google AdWords is a highly complex, continually developing network of PPC Advertising, managed and developed by one of the largest global companies in the world. Google and its large remit of employees work endlessly every day to develop new features, programs and tools to help further optimize PPC advertising campaigns and as such Google AdWords can be incredibly difficult to keep up to date with. PPC Management Companies, like Webrageous Studios, are dedicated to maintaining up to date knowledge on everything to do with Google Paid Advertising Management so that its clients don't have to. In addition, because Webrageous Studios is an AdWords Certified Company, it regularly receives information before this information is made known to the general public. It also receives special support and personal invitations to test out new Google Paid Advertising Management features or programs before they arrive on the market for general use.
Do you want to make a success of your PPC campaign? Do you want to avoid paying out advertising costs unnecessarily to cover poorly managed advertising campaigns? Do you need to increase conversions or decrease the cost-per-click of a conversion on your present campaign? Do you know how to improve your Google Paid Advertising Management in order to reach these aims? Are you serious about PPC Advertising, but do not have the time to run the campaigns yourself?
Webrageous Studios can help with all of your Google Paid Advertising Management needs. Read the in-depth article on the subject recently posted on the company's website and then click on the Contact Tab in the right hand corner of this site in order to speak with a Google AdWords Certified PPC Account Manager as soon as possible.
Google Paid Advertising Management is not an easy task. Let the experts at Webrageous Studios do it for you.