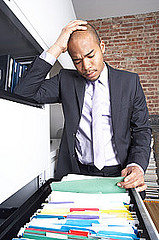 Google Analytics is a vital tool for anyone working in PPC Advertising. It is one of the best ways to keep track of your campaign and to analyze the development and progress of your efforts for free.
Naturally, it is important to analyze the details of any PPC campaign, otherwise you could end up continually going around in circles without realizing your mistakes. Unless monitoring the effects of your campaign with due attention, money can be wasted and potential customers can be lost. However, perhaps you're new to PPC Advertising and Google Analytics is just another added worry.
Have you been tearing your hair out trying to figure out what all the technical jargon in Google Analytics actually means? Perhaps you're not really sure where you should be checking, day in, day out, to ensure that everything with your PPC campaign is going to plan? An even worse scenario could be that you don't even know what Google Analytics is and are now really beginning to worry that all the time you have spent on your campaign has been an utter waste?
If these questions sound too familiar, Webrageous Studios can be of immediate help. Obviously, nothing can replace the expertise you are guaranteed to receive from our expert PPC Account Managers if contacting our company directly to request more information. However, if planning to try and manage your own PPC advertising campaign, knowledge of Google Analytics is vital and the Webrageous Studios Blog can provide a little support regarding this matter in the form of this post.
Google Analytics: The Basics
At the most basic of levels, Google Analytics is a free tool created by Google and accessible via the Google Analytics home page in order to allow any PPC advertiser to analyze the effects of their PPC Advertising campaign in one single database. The advertiser can then make informed decisions based on this analysis about how to improve the effectiveness of their campaign. They can make changes to their website landing pages, positive and negative keywords, the times when their advertisements are shown on Google search engine results and more.
Google Analytics does more than conversion tracking would do, which is solely designed to record and report on the conversions that take place for a given advertisement. Google Analytics records how a web user arrives to your site, what they do whilst they are on your site and from which page they finally leave your site, as well as a multitude of other things. It is the eyes and ears of an advertiser and displays all the information in easy to read charts and tables, customized at the advertiser's behest.
Google Analytics: Explained in More Detail
More detailed explanations about Google Analytics can be found on the Webrageous Studios' website if the content of this post does not cover what you wish to know. In addition, by clicking on the Contact Tab in the top right hand corner of this site, expert advice in the form of a Google Adwords trained PPC Account Manager could be with you in a flash and could help to put all of your Google Analytics fears and questions to rest.
Need Google Analytics support and guidance?…… Webrageous Studios has all the answers.