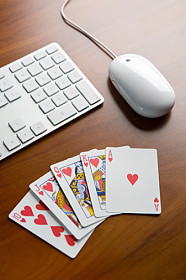 One of the ways in which to best manage a PPC Advertising Campaign and the individual Google Sponsored Links that make up that campaign is to raise the Quality Score. Quality Score is important because it is one of the ways in which Google measures the effectiveness of your PPC campaign. The better the quality of both the PPC advertising campaign in general and each Google Sponsored Link in turn, the less expensive the whole process becomes. Google rewards PPC advertisers for well optimized campaigns by charging them less money. Cost-per-click amounts are less for an effective Google Sponsored Link when compared against one that doesn't drive a lot of traffic. Quality Score is one of the ways in which Google measures the effectiveness of each Google Sponsored Link and that is why it is so important.
So…how to get a high Quality Score…
Take the time to read the detailed article about Google Sponsored Links and High Quality Scores posted on our website, as it explains the subject in a little more depth and outlines some of the basics in a very clear, easy to read fashion. After reading that article, the ways in which to raise Quality Score should be at least a little clearer and you should be pointed in the right direction in terms of improving the effectiveness of your PPC advertisements overall.
However, it is perhaps enough to say in this short blog post that Google Sponsored Links must be managed by well trained, well experienced PPC Account Managers if expecting to see really effective results and to avoid high advertising costs. There are so many features, tools and programs provided by Google AdWords in order to help PPC advertisers further optimize their PPC campaigns that sometimes the effects can be very overwhelming. This is why the expertise of PPC Management Companies, such as Webrageous Studios, is essential. Webrageous Studios is also a Google AdWords Certified Company and for this reason is highly skilled in all areas of PPC Management. Everyone working for Webrageous Studios has a lot of experience in the optimization of Google Sponsored Links, including optimization through the improvement of Quality Score.
Tools such as Google AdWords Editor, Keyword Tool and the Google Remarketing Program (the list is endless) are highly useful, but only to those who know how to use them or have the time to dedicate to the learning of how. Google Sponsored Links that are poorly optimized and feature low on the Quality Score front, can be improved really successfully in relatively little time IF being managed by an expert. For AdWords Certified PPC Account Managers, tapping into that expertise is far less of a challenge than it is for inexperienced independent advertisers trying to manage a long list of Google Sponsored Links without previous training.
Therefore, firstly read our detailed article on Google Sponsored Links and Quality Score. Then, click on the Contact Tab in the top right hand corner of this site in order to make contact with the AdWords Certified PPC Account Managers at Webrageous Studios. We will be happy to discuss any questions you may have about Google Sponsored Links and can begin developing a successful, cost-effective PPC Advertising Campaign for you at any moment. Just get in touch.