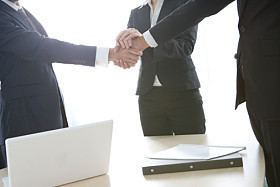 How might a divorce attorney go about marketing their business?

Without giving much thought to the idea, a foolish and inexperienced divorce attorney might try the following marketing techniques:

Tell a friend that they saw that same friend's wife or husband dining romantically with someone else and then finish the conversation by giving that then sad and distraught friend their divorce attorney business card, accompanied by a look of deeply feigned compassion!
Sit outside a marriage counseling unit with a large batch 50% off divorce attorney voucher handouts and simply wait for the troops to march on in!
Get a part time second job as a post man/woman and burn all the cards or packages sent to loved ones on Valentine's day; posting divorce attorney marketing leaflets through each letterbox on his or her route instead!
Obviously, divorce attorney marketing techniques such as those suggested above are, quite frankly, just a little drastic, not to mention more than a little amoral. Coming from a field like this, you have to make sure that your credibility stays intact.

Indeed, there are far better ways of marketing yourself as a divorce attorney; ways that are both less cruel and far more effective. This is where proper divorce attorney online marketing comes in.
Efficient Divorce Attorney Online Marketing
One of the best divorce attorney marketing options lies in the application of PPC Advertising through online networks such as Google AdWords. Webrageous Studios is a highly specialized and incredibly successful PPC Management Company that works on efficient and effective divorce attorney online marketing in order to improve their PPC strategies.

To learn more about the recent successes experienced by other attorneys through divorce attorney online marketing thanks to the help and support of Webrageous Studios, read the article posted on the Webrageous Studios Website. The article details specific examples of divorce attorney online marketing successes and it also lists the many different areas, such as divorce mediation, that Webrageous Studios specializes in.