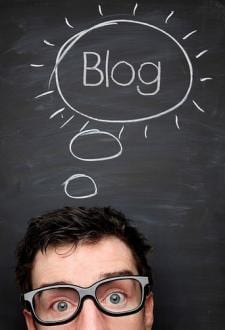 For the past year, Webrageous Studios has created daily blog content to be published on its website every day. The daily posts always link to more detailed articles that we publish on the main Webrageous Studios website.

Why is it important to create daily blog content?
Getting Ideas for Daily Blog Content
The content writers who research into and create daily blog content for our pay per click company also spend a great deal of time keeping up to date with what they consider to be some of the best blogs available today covering important areas of interest in pay per click.

These blogs include search engine marketing blogs and blogs which tackle pay per click management issues head on. Some blogs that the Webrageous writers keep track of also cover related subjects including developments in social networking and online marketing in other forms. This research helps to create daily content that is both relevant and useful for our following readers.

But, again, the question is why do we create daily blog content and why do we focus on researching into the world of pay per click?
Importance of Daily Blog Content
Why is it vital to follow the tweets of some of the pay per click blogging greats every day? Why is it essential to produce useful and innovative content on the Webrageous Blog every 24 hours?

The main reason is because internet users like blogs. Internet users like bloggers who tweet their updates so that they are immediately aware of new content as and when it is published.

Indeed, internet users on the whole like to follow and trust in what their favorite bloggers share with them much more than reading long and dry articles on a main search engine marketing news website, for example. If you create daily blog content you generate a much better relationship with your online clients and this relationship is very important.

Hot off the press pay per click management news delivered by a well-known online advertising news site generates a lot of attention in the first few hours, but blog material lasts a hell of a lot longer without a doubt. Bloggers can be continually quoted time and time again from the same blog post sometimes months or even years after it was first posted, rejuvenating old material into new simply through their dedicated fan base.

If you create daily blog content, you can achieve excellent relationships with past and present clients. This is why Webrageous Studios places such importance on the creation of daily content for its website and this is why we are urging you to do the same, particularly if you are interested in building up long-term online customers.

Think about your own online behavior. When I visit my favorite blogs, I love to scan through the old posts and retweet material from months ago because what was said is suddenly relevant to the current climate all over again. Daily blog content is long-lasting.

Webrageous Studios makes a concerted effort to publish at least one blog post every day because blogs are sustenance for any business, including ours. A blog is not just a quick swig of soda or a quick snack-pack of chocolate biscuits to give your business the burst of sugar that's needed to pump through a rush of traffic to your site.

Daily blog content is like a slow releasing carbohydrate that keeps your business ticking over all year long, bringing people to your site time and time again and encouraging them to share what they find there with others. Create daily blog content and earn a loyal audience.

The moral of today's blog post is to invest time and effort into your blog. Make it easy for people to share its contents with the world and introduce new followers to your site. Make it widget friendly and relevant to your audience. Keep track of which posts get high page views and work on creating daily content of a similar nature in content or style. If you do this, your blog will be one of your best online marketing assets and it will generate followers and/or customers for life.

If you would like to see the Webrageous Studios covering more of a particular subject area or if you would like to read more posts of a particular style and approach, don't hesitate in contacting us immediately. We want to create daily content of use. Show us how to make it better.