AdWords image advertisements will always generate a higher click-through-rate and higher conversion value through impression rate compared to other forms of advertisements. People are automatically drawn to images as compared to texts. A marketer creating an image advertisement would just have to pay a little more for image advertisements which will not pose a problem considering the benefits it can bring to the campaign.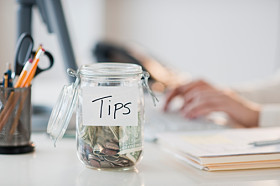 Since an image advertisement will cost a few extra cents, it will be best to take note of these 5 tips that will help create the most effective advertisement a marketer can make out of his or her budget:
Create image advertisements like a movie poster.
No, this is not about getting a popular star posing for the AdWords advertisement. This is as simple as using a picture of someone with a pretty face using the product; a happy family enjoying the services; good-looking peers sharing what the company is offering; an adorable kid; or a lovable pet. Use an image of a person to whom the users can relate instantly; a picture able to grab the interest of the users right then and there.

A movie poster is in tune with its tv trailer and with its print advertisements. Be sure to align online AdWords image advertisements with what is advertised offline. Be consistent with your message and branding. If the offline advertisement established recall then this can translate to the image advertisement online.
Craft it like a book cover.
The cover of a book has a compelling title that almost says it all; a title that urges the reader to turn to the first page of the book. In the case of the image advertisement, a marketer should be witty and keen to use his or her call-to-action phrases that will compel the user to click on the advertisement.

Choose a color scheme compatible with the font color of the texts in the entire image. Think twice before using extremely bright colors that can make reading the text difficult. Try all color combinations until the overall effect is pleasing to the eye.
Play with Tools.
Utilize Google AdWords Display Ad Builder. With Display Ad Builder, AdWords image advertisements can be done with images in different sizes keenly put together. Also, there are a lot of templates and animations made available through the Display Ad Builder that a marketer can utilize.

If designing a Display image advertisement for desktop browsers, images should be formatted using GIF, JPG, JPEG, PNG, SWF and sizes of all files are limited to 50KB.

The following sizes are supported:

250×250 for a square advertisement.
468×60 for a banner advertisement
728×90 for a leaderboard
300×250 for an inline rectangle advertisement
120×600 for a skyscraper
160×600 for a wide skyscraper
300×600 for a half-page advertisement
Mobile browsers require different sizes and specs. When designing advertisements for mobile browsers, images formatted in GIF, JPG, JPEG and PNG are the only ones accepted.

The following sizes are supported:

320×50 for a leaderboard advertisement
200×250 for a small square advertisement
250×25 for a square image
300×250 for an inline rectangle image
Be sure to choose the correct device setting for the campaign if the advertisement is meant to show on mobile devices.
Be Positive about Remarketing.
Remarketing is one feature of paid search marketing by which advertisements are only shown to people who are visiting a page on the Google Display Network and have previously visited a page of the advertiser's website.

Remarketing is done through tagging an AdWords code to the entire image advertisement on the website. As soon as the images are tagged with this code, AdWords is prompted to save whoever visited the site to its "Homepage List". Consequently, when this visitor visits another page in the Google Display Network, the image advertisement will re-appear. An image advertisement tagged with a Remarketing code will surely promote awareness and recall for the campaign.
Know the Rules.
In creating image advertisements, it is very important to abide by the rules and policies. Google AdWords' rules on image advertisements are as follows:

The text on the image advertisements must adhere to editorial policy guidelines
A display URL is NOT necessary to include in an upload image.
Image advertisements are NOT allowed to be rotated or inverted
Image advertisements must be rated family-safe only.
Image advertisements must be clear and readable
NO mock animated features may be included in an image ad
For people interested in creating image advertisements for their company, they can contact Webrageous Studios. Webrageous is the most dependable paid search management company for people who want the best image advertisements for the Google Display Network.